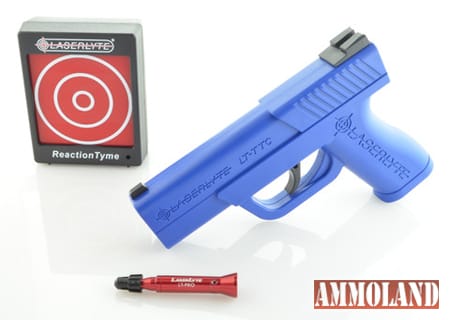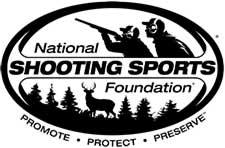 NEWTOWN, Conn –-(Ammoland.com)- LaserLyte, innovator in firearm laser technology, has donated more than $20,000 of retail product to the National Shooting Sports Foundation's First Shots program, including the company's Trigger Tyme Pistols, Laser Training Targets and Training Lasers.
LaserLyte is operated by the father-and-son team of Larry and Aaron Moore, both avid target shooters and hunters. The company is known for many firearm laser products, including its Trigger Tyme Training Pistol and Laser Trainers and Interactive Targets.
Together the LaserLyte training pistol (LT-TT), Universal pistol laser (LT-PRO) and Trainer Target (TLB-1) provide important and also fun training equipment for both newcomers and experienced target shooters. The Trigger Tyme Training Pistol cannot accept or be fired with ammunition.
"It is our honor and privilege to participate in such a vital program for new shooters," said Aaron Moore, Vice President of LaserLyte. "Our products with the support of the First Shots program will introduce thousands of new shooters to our industry."
Conducted by NSSF member host ranges, First Shots provides an introduction to target shooting for newcomers and also offers a Second Round component to provide novices with the next step in their introduction to the shooting sports and firearms safety.
"This generous donation of laser training equipment from LaserLyte is a perfect fit for First Shots and will help participants learn about safe gun handling, trigger pull, target acquisition and other shooting skills," said Tisma Juett, Manager of the First Shots program.
LaserLyte product packages will be made available to ranges that host First Shots Second Round events, specifically to help participants learn how to safely draw from a holster and use proper trigger control to put shots on target prior to supervised live-fire exercises.
Learn more about LaserLyte at its website and about First Shots at www.firstshots.org.
About the NSSF: The National Shooting Sports Foundation is the trade association for the firearms industry. Its mission is to promote, protect and preserve hunting and the shooting sports. Formed in 1961, NSSF has a membership of more than 10,000 manufacturers, distributors, firearms retailers, shooting ranges, sportsmen's organizations and publishers. For more information, log on to www.nssf.org.