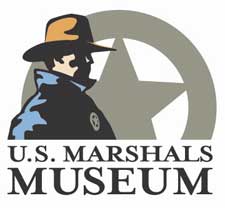 Fort Smith, AR –-(Ammoland.com)- The U.S. Marshals Museum has announced a four-part lecture series showcasing western-era guns and their famous owners.
The Old West and Indian Territory days are an era ingrained in the American imagination, and no single item represents this period more than the gun.
"Guns were a crucial part of the development and history of our country and the West specifically," said Jim Dunn, President and CEO, U.S. Marshals Museum.

"These items were more than just legendary weapons, they were important tools that helped shape the history of our nation."
Admission is $10 per lecture, or $25 for the series, which also includes a commemorative monograph. The Monograph alone will be available for $15. At each event, light refreshments will be served and a cash bar will be available.
Session 1 – Guns of the Frontier – 3/10/14 – 6:30pm
Location: UAFS Blue Lion Building, 101 N 2nd St, Fort Smith (former 2nd Street Live
Guns of the Frontier, a series overview, will be presented by Robert Pickering, Ph.D., Director of Curatorial & Public Programs at the Gilcrease Museum in Tulsa, OK, and former Deputy Director of the Buffalo Bill Historical Center in Cody, WY. Dr. Pickering will discuss the role guns played in settling the frontier and in the building of the nation, the types of guns that were most popular, and myths versus the realities of gunslingers.
Session 2 – The Hangman and His Winchester – 4/14/14 – 6:30pm
Location: River Park West Room, 121 Riverfront Drive, Fort Smith
Session 3 – A Deputy and His Colt – 5/12/14 – 6:30pm
Location: UAFS Blue Lion Building, 101 N 2nd St, Fort Smith (former 2nd Street Live
Session 4 – An Outlaw and His Smith & Wesson – 6/9/14 – 6:30pm
Location: UAFS Blue Lion Building, 101 N 2nd St, Fort Smith (former 2nd Street Live
For tickets to the series or individual lectures, call 479-709-3766 or visit the USMM Office at 14 North 3rd Street, Fort Smith. (Office Hours Monday-Friday 8am-5pm)
U.S. Marshal Museum Guns of the Frontier Lecture Series Flyer
About The U.S. Marshals Museum
The Mission of the U.S. Marshals Museum, Inc. is to form a national center of heritage and legacy, disseminate knowledge and inspire appreciation for the accomplishments of the U.S. Marshals Service. See more at: www.usmarshalsmuseum.com