Operator tough and mission designed lights ideal for home protection, law enforcement, security or backup to a primary illumination source.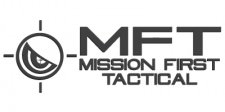 BENSALEM, PA (Ammoland.com) – Mission First Tactical, LLC (MFT™) is proud to introduce TORCH; the new MFT series of lights and IR for home defense, law enforcement, security and as a primary light source backup.
The TORCH line includes three models all are USA made by Princeton Tec.
The TORCH Backup Light White (TBLW) is a low profile, Picatinny mounted light with dual white
LED's. It has a recessed pressure pad for easy activation and a power button for simple ON/OFF functions.
The illumination is low output for signature reduction during patrol, stealth structure search and approach to the target and breaching operations.
The TORCH Backup Light White has a 10-year storage lifespan, a 12-hour burn time with a 20-lumen bright white output. It weighs just 22 grams and has an IPX7 water resistant rating. MSRP is $59.99.
.
.
.
The TORCH Backup Light White/Red (TBLWR) illumination tool has many of the same features of the TBLW, except the dual LED's are white and red; it has a 24-hour burn time and a 10-lumen output.
Also, power button features a one-click for low, a second click for high and a hold for 2-seconds brings on the primary light functionality. MSRP is $59.99.
.
.
.
.
The third light in the TORCH series is the Backup Light with Red/IR LED's (TBLIR). It features all the same specifications of the TBLWR and includes the IR LED. MSRP is $59.99.     
For more information on the new Mission First Tactical TORCH series of illumination tools, visit Mission First Tactical online.
About Mission First Tactical:
Mission First Tactical (MFT) designs and develops select USA Made rifle/carbine accessories specifically for the Military, Law Enforcement and Civilian markets.  The MFT team has over 75 years of industry experience in taking concepts to front-line deployment. From the beginning MFT's mission is to develop leading edge products for individuals operating in harm's way. Success for every operator's mission is Mission First Tactical's intent. www.missionfirsttactical.com
Battlelink™ Buttstocks, Engage™ Pistol Grips, React™ Grip Series, Torch™ Laser & Light Mounts, E-Volv™ Attachments are trademarks of Mission First Tactical, LLC. All company and product names mentioned herein are trademarks or registered trademarks of their respective sources.