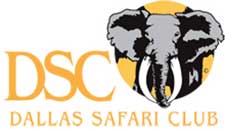 DALLAS –-(Ammoland.com)- Scientists working to grow rhino populations in Namibia have announced plans for the $350,000 raised in a recent Dallas Safari Club (DSC) auction. A petition by anti-hunting groups, however, could block the additional conservation funding.
Namibia Ministry of Environment and Tourism officials say the funds will be used for law enforcement training, patrol vehicles and a national intelligence system crucial for protecting rhino populations from criminal poaching.
Funds also will help biologists with a new rhino census at Etosha National Park.
Elly Hamunyela, a deputy director for the agency, said in a February email to DSC that Namibia's rhino population, which has doubled since 1990 and is growing approximately 5 percent each year, is vulnerable to threats. Of particular concern are poachers using helicopters, poachers poisoning waterholes, and the agency's limited funding and resources.
Poachers killed more than 1,000 rhinos last year in neighboring South Africa. Officials worry Namibia could be next.
"We are putting a lot of effort into capacity building of our staff, formal and in-service training, equipping our staff with up-to-date equipment, and making use of technology (including unmanned aerial vehicles, closed-circuit television surveillance and radio-frequency identification tags)," said Hamunyela.

She added, "Rhino conservation is very expensive as we all know. As a small example, on average to immobilize a rhino, fit it with security devices and DNA typing costs US$1,800 to US$2,300. We immobilize more than 100 rhinos on a yearly basis!"
Hamunyela also cited high costs of simply counting rhinos. Between 160 and 180 hours of helicopter time is required for the planned census at 8,598-square-mile Etosha National Park.
The additional $350,000 will "contribute significantly" to the conservation and future of rhinos in Namibia, according to agency officials.
The ministry also is manning a 24-hour toll-free hotline, working with police and armed forces, and partnering with World Wildlife Fund, Save The Rhino and others on outreach to local communities—all to help maximize "staff per rhino" and efficient responses to poaching.
"To counteract and make Namibia a non-sought-after rhino poaching destination, we need all the assistance we can get. Namibia is not in the position where government can make vast amounts of funding available on short term," said Hamunyela.
With broad support from the world's scientific community, the Namibia Ministry of Environment and Tourism is authorized by international treaties to sell up to five black rhino-hunting permits a year. The hunts target post-breeding, aggressive bulls. Removing these animals improves herd survival and fecundity. Funds generated from the hunts must be used to support the agency's rhino conservation efforts. The agency has never sold all five permits in a given year. It also had never sold a permit outside of its own country until the agency asked DSC to host an auction in 2014. At the Jan. 11 sale, the permit brought a record $350,000.
Ben Carter, DSC executive director, said, "We were pleased to help support rhino conservation in Namibia. We only wish the permit had sold for a higher amount."
The winning bidder may now apply to the U.S. Fish and Wildlife Service for an import permit that would allow him to return home with his trophy, should the rhino hunt be successful. The $350,000 will be wired to Namibia upon granting of the import permit.
Anti-hunting and animal-rights groups are petitioning the agency to deny the import permit.
Carter said, "If the application is rejected, the antis will trumpet victory, but the reality would be a setback for black rhino conservation."

He explained, "The U.S. Fish and Wildlife Service promised to cooperate with a qualified applicant, but if, for whatever reason, the import permit is denied, then the hunter can withdraw his $350,000. But the Namibia Ministry of Environment and Tourism still has to cull some rhinos, so it would simply auction the hunting permit to someone else—probably for less, since the usual sale price is $175,000 to $223,000. That means less funding for science. And less funding for law enforcement to protect rhinos from poachers."

"A black rhino in Namibia is going to be hunted, period. It's a biological, practical necessity. The only question is how to make it as meaningful as possible from a financial standpoint to the larger issue of species survival," added Carter.

About Dallas Safari Club
Desert bighorns on an unbroken landscape, stalking Cape buffalo in heavy brush, students discovering conservation. DSC works to guarantee a future for all these and much more. An independent organization since 1982, DSC has become an international leader in conserving wildlife and wilderness lands, educating youth and the general public, and promoting and protecting the rights and interests of hunters worldwide. Get involved at www.biggame.org.