Stateboro group will use funds to increase area habitat for upland wildlife.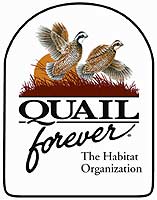 Nashville, Tenn. –-(Ammoland.com)- Statesboro, Ga. –-(Ammoland.com)- Quail hunters have formed the newest Quail Forever (QF) chapter in Georgia, known as the Statesboro On Point Quail Forever chapter.
The chapter, located 55 miles northwest of Savannah, will primarily focus on improving habitat for quail and assisting with various upland conservation projects.
The chapter elected Mark Anderson to the role of president. Like many hunters, Anderson found a love of hunting at an early age. He grew up hunting a variety of different animals with his father on his grandparents' farm. Continuing his passion for upland bird hunting, Anderson now hunts behind a pack of upland dogs, including multiple French Brittanys, an English pointer, and an English cocker spaniel.
Anderson, who is well-versed in quail conservation, received information in the mail regarding Quail Forever's unique model which allows local chapters control over 100% of their locally raised funds. Over the years, he has seen the ups and downs of quail hunting, and with further investigation, realized there wasn't a Quail Forever chapter in his area, so he decided to make a local impact by starting a chapter.
"The volunteers of the On Point chapter understand the importance of quail conservation and are dedicated to Quail Forever's commitment to improve habitat on public land in Georgia," said Talbott Parten, Quail Forever's regional representative for Georgia and Florida.

"This chapter is in the 'getting started' stage, so we are looking to establish board members. Additionally, we want to connect with various people throughout the Stateboro area to find out what we can do to help quail conservation," said Anderson.
For more information on the Statesboro On Point Quail Forever chapter or how to volunteer, contact Mark Anderson at (912) 536-7726 or email Mark ( [email protected] ). For all other inquiries, please contact Talbott Parten at (229) 289-8199 or email Talbott ( [email protected] ) .
Pheasants Forever, including its quail conservation division, Quail Forever, is the nation's largest nonprofit organization dedicated to upland habitat conservation. Pheasants Forever and Quail Forever have more than 140,000 members and 745 local chapters across the United States and Canada. Chapters are empowered to determine how 100 percent of their locally raised conservation funds are spent, the only national conservation organization that operates through this truly grassroots structure.
Quail Forever is dedicated to the conservation of quail, pheasants and other wildlife through habitat improvements, public awareness, education and land management policies and programs.