This action is 2A FlashMob Approved, anyone acting will automatically qualify for their own FREE 2A Mob Patch.
New Jersey –-(Ammoland.com)- Greetings everyone.
Here are this week's questions for New Jersey Senate President Steve Sweeney's #AskSenPres Twitter Thursdays.
The New Jersey Second Amendment Society is pushing our state senate president to acknowledge that the right to keep and bear arms is denied in New Jersey, and making more laws that only effect law-abiding gun owners does nothing to prevent violent crime with guns.
Every Thursday he does an "ask the Senate President" question and answer push on Twitter, so he needs to hear from all of us that are on Twitter with the following questions. Any Second Amendment supporters or Oath Keepers with a Twitter account can help.
Please ensure these go out all day Thursday February 13th 2014 until around 3-4 pm.
Just copy & paste the following into your Twitter accounts:
It was my pleasure to have finally met some more of our Twitter Army's members in person last night at the Emily Miller event. It's always great to be able to have a face to go with a name. Thanks to everyone that braved the snow last night to be there. It was well worth the drive.
Let's see if we can break last week's numbers with these comments. We really had Sweeney's attention last time. I'm hoping for a repeat performance. As always, feel free to send any comments, questions or suggestions any time.
Warm regards,
Amy
Social Media Coordinator
[email protected]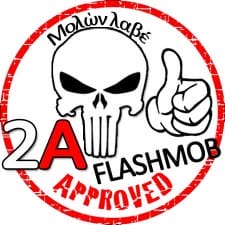 About:
New Jersey Second Amendment Society – Our mission is to promote the free exercise of Second Amendment rights within the community and Legislature of New Jersey, to educate the community regarding the enjoyable, safe, and responsible use of firearms, and to engender a sense of camaraderie and fellowship among the members and their families. Visit: www.nj2as.com
About 2A Flashmob: 
In an effort to motivate gun owners and Second Amendment Supporters to show up in person at important events and rallies AmmoLand Shooting Sports News is giving away FREE 2A Flashmob Patches to anyone who attends a protest, rally, open carry event, committee hearing at your state capital or a Moveon.org counter protest. (You may already be eligible)
Spread the word, get out, get active!