The LaserLyte® Laser known for its small footprint and ease-of-use has just been upgraded.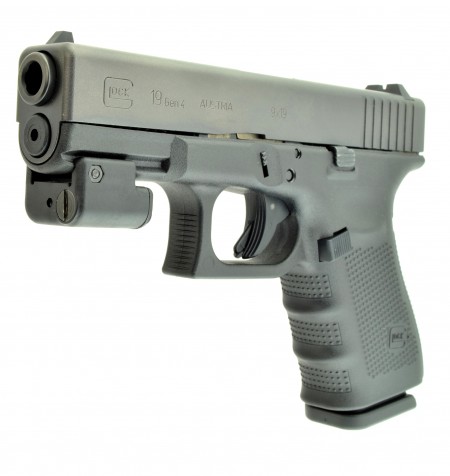 COTTONWOOD, AZ (Ammoland.com)– LaserLyte, innovators in firearms laser technologies, introduce the next evolution of the LaserLyte V4 laser (FSL-4) that fits on less than one-inch of a Picatinny rail in front of the trigger guard on any full size handgun.
Made with a durable 55% glass-filled nylon body for long-term durability with an inner aluminum core that keeps the laser accurate at all times. The new no-snag, contoured lines allow the user to quickly draw an d reholster without catching, and with less bulk, reduces printing in concealed carry situations.
The new V4 laser with its slimmer, smaller form blends into the gun form yet is easily activated by the user at just a touch of the finger.
The V4 laser is easily mounted on a one-inch or less Picatinny rail with a crossbar screw.
An auto-off feature prevents accidental activation of the laser and prevents unnecessary battery depletion. The V4 laser is ambidextrous.
The LaserLyte V4 FSL-4 laser gets sport shooters and professionals on the target faster, increasing accuracy and overall hits. For more information, visit www.laserlyte.com.
LaserLyte V4 Laser FSL-4Specifications:
Compatible Firearms:            Handguns with at least one-inch Picatinny rail
Power Output:                         650NM, 5MW, Class IIIA
Programmable:                       Dual mode, constant on and pulse mode.
Body Housing:                         55% Glass Filled Nylon for durability
Interior Material:                   6061 aluminum core for reliability
Batteries:                                4 x 392
Battery Life:                            Actual usage 5 hours constant on, 10 hours pulse mode
Body Color:                             Black
Weight:                                   .75 ounces/0.021 kg
Length:                                    1.11 inches/2.8 cm
Width:                                     1.08 inches/ 2.74 cm
Height:                                    .76 inches/1.93 cm
MSRP:                                      $109.95
About LaserLyte:
LaserLyte, the leader in laser technology for over 25 years. Our mission is to heighten the experience of shooting. LaserLyte offers a 3-year warranty for all products sold new. For additional information about LaserLyte, visit www.laserlyte.com. Visit the LaserLyte YouTube page for all the LaserLyte action.