Biloxi, Mississippi –-(Ammoland.com)- I grew up in the north. My youth was spent in Detroit, Michigan and my teen years in north central Ohio. In other words, I am intimately familiar with long winters.
When I was young I specifically remember my mother and father keeping a cardboard box of winter-time emergency supplies in the trunk of our family car.
My mom made sure there was an old blanket and she'd stuff the box with extra pairs of mittens and knit hats, just in case. My dad would put a bag of rock salt in the trunk and a short handled flat shovel. My parents weren't "doomsday preppers", they just knew that winter weather was unpredictable and sometimes you might get stuck. I remember my grandfather keeping snow-chains for the car tires in the trunk of his Buick.
If we can take away a positive from the long and unusually cold winter this year, it should be an awakening. How many of us have gotten overly comfortable and assumed that everything we need for personal safety and survival is just a mobile phone call away? How many people who looked down their noses at those "paranoid preppers" found themselves stuck out in the freezing temperatures with nothing but a phone in their hands and no help available?
Levels of Preparedness
No one expects you to keep two week's worth of emergency rations in your car. There are different levels of preparedness for varied situations. I suppose the first question you need to ask yourself is what is your primary concern? Do you live in the Great White North and are worried about freezing? Do you live in the Deep South and understand that a hurricane could knock out the power for weeks?
We can refer to Maslow's Hierarchy of Needs and look at the base level. Every human being, regardless of location, requires clean water, food, shelter, warmth and sleep to survive. Next up on the pyramid is security, shelter (protection from the elements) stability, and freedom from fear. After the foundation is taken care of man can focus on their social and psychological needs.
Read the Entire Article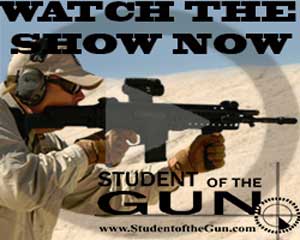 Student of the Gun is the #1 source for education, enjoyment and enlightenment of real-world firearms including: training, videos, radio, books and articles. A beginner once, a student for life. www.studentofthegun.com
Being a Student of the Gun is not about being a novice or beginner. Student of the Gun represents a lifelong journey of education, enlightenment and the enjoyment of firearms. Each episode will introduce the viewer to new and interesting firearms as well as the latest gear to go with them.
We will travel throughout the United States, seeking the advice and expertise of the best firearms trainers available. Sometimes deadly serious, sometimes just for fun, Student of the Gun will always strive to educate and entertain our viewers while offering them an insiders' look at the worlds of firearms.
Student of the Gun is proud to bring you exclusive gun/gear giveaways and complimentary training. We are always giving away something to our fans to show our appreciation for YOU. To view our current giveaway, visit www.studentofthegun.com/join-our-team. We couldn't bring you these exclusive giveaways without the support of our fantastic sponsors. Be sure to check them out and let them know you appreciate them as much as Student of the Gun does!
Watch the TV show weekly (9 p.m. EST) on DISH Network Channel 266 www.huntchannel.tv , view 24/7 on demand, or listen to SOTG Radio at www.studentofthegun.com.