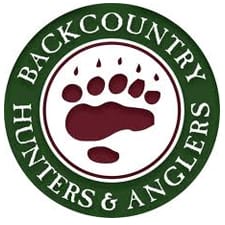 DENVER, CO –-(Ammoland.com)- Anyone interested in the challenge and allure of roaming big, wild country are sure to find priceless information and inspiration at the North American Rendezvous of Backcountry Hunters & Anglers, later this month in Denver.
The national sportsmen-conservation group Backcountry Hunters & Anglers will celebrate its tenth anniversary at the Rendezvous March 21-22nd 2014 at the Red Lion Inn in Southeast Denver. This two-day event will feature demos of the latest gear, exclusive hunting and fishing seminars and prizes for the whole family.
The event begins 4 p.m. Friday with a reception and vendor booths. The "Backcountry Bash" will begin at 7 p.m. and will include door prizes, beer, food, live bluegrass music from 'Simpler Times. Leaders of the outdoor industry including First Lite, Kifaru, Tenkara, will be on hand. Raffle prizes include cutting-edge Mountain Accent rifles from Kimber.
Starting at 9am on Saturday, experts in the field will present a series of workshops and seminars on topics such as: public land mule deer hunting tips, packing lightly, gun dog training, backcountry survival skills and more. Attendees can tour a display of the latest backcountry shelters in the "Parade of Tents." The event will also feature panel discussions on topics including "Technology and Hunting", "Women in Hunting", and more.
The event concludes Saturday night with a dinner, live and silent auctions, raffles, public premiere viewing of new hunting videos, and a keynote address from prize winning outdoor writer Hal Herring. Auction items run from knives, to tents, stoves and guided hunting and fishing trips.
"The North American Rendezvous is a great place to meet enthusiastic people, hone your outdoors skills and see the latest backcountry gear," said BHA Executive Director Land Tawney. "Along the way, we also work hard to conserve America's public lands and waters for our kids and grandkids to enjoy."
Founded around an eastern Oregon campfire in 2004, BHA now has chapters in 14 states and provinces, including an active chapter in Colorado. BHA strives to be the Sportsmen's voice for wild public lands, water and wildlife.
Ticket prices range from $20 for the "Backcountry Bash" to $130 for the entire weekend, which includes entry to all seminars, two dinners, a Saturday lunch, and specialty BHA merchandise. To order tickets, visit www.backcountryhunters.org, email [email protected], or call (406) 370-4325. For more details or up-to-date announcements, visit BHA on Facebook at www.facebook.com/backcountryhabitat.