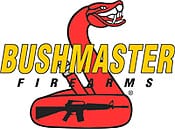 Madison, NC –-(Ammoland.com)- Bushmaster is pleased to announce that they will again be the primary sponsor of the Tarheel 3-Gun Challenge Match for the third year in a row.
The 2-day match will be held Saturday, April 5 and Sunday, April 6, 2014 at Woody's Hunting and Rifle Club in New Hill, NC.
"Bushmaster has been so supportive of Tarheel 3-Gun over the past two years," said Steve Wall, Range Master and Co-Owner of Tarheel 3-Gun.  "It is wonderful to have them back for a third year."
Many of the nation's best 3-gun shooters will participate in this competition, which will run under the 3-Gun Nation Club Series Rules and feature some 3GN classifiers. In 2013, 280 participants competed to win a prize table totaling $125,000. This year's match is anticipated to draw as many participants and will offer a similarly-valued prize table. New this year, match participants will be entered to win a Bushmaster BA 50 BMG Rifle, valued at $5,500, to be given away by a random drawing.
"At Bushmaster, we are shooting sports enthusiasts, so we are pleased to be partnering again with Tarheel 3-Gun to support this competition," said Shane Naylor, Shooting Sports Manager, Bushmaster. "It's exciting for us to see athletes of this caliber use our firearms with such skill and agility as these competitive shooters demonstrate."
In the sport of 3-gun, competitive shooters utilize semi-automatic rifles, pistols, and shotguns to move through a series of courses of fire that are timed for speed and accuracy.
For more information, please visit www.tarheel3gun.com, www.bushmaster.com or email [email protected]
About Bushmaster Firearms International
Bushmaster Firearms International ("BFI") is the leading supplier of AR15/M16 type rifles in the United States for Law Enforcement, security and private consumer use. Headquartered in Madison, NC, BFI supplies aluminum and advanced carbon fiber-based rifle platforms in calibers ranging from 5.56mm/223 to 50BMG. These and associated accessories manufactured by BFI meet the tactical rifle needs of US customers as well as Military, Law Enforcement and Security clients from over 50 countries worldwide. Visit our web site at www.bushmaster.com.