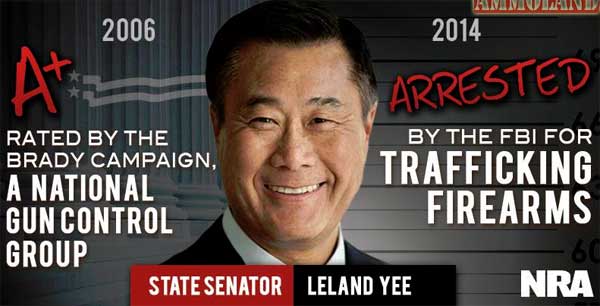 Sacromento, California – -(Ammoland.com)- A California state senator who has been an outspoken gun control advocate was arrested Wednesday March 26th 2014, accused of helping to broker truly "illegal gun sales" in exchange for campaign donations.
State Sen. Leland Yee (D-CA), considered by the Brady Campaign's as their go-to guy in state politics for sponsoring their new gun control schemes, is accused of accepting bribes from FBI agents who posed as East Coast mobsters.
The San Francisco Democrat, who is running for secretary of state, was being held on $500,000 bail. In an elaborate sting that's being likened to the movie "American Hustle."
Keep reading for all the sordid details and get a glimpse into the progressive mindset that believes laws are just for the little people.
California Senate Democrat Leland Yee Criminal Complaint 032614