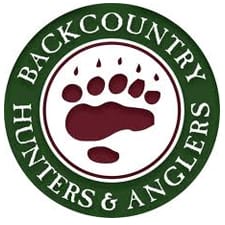 Denver, CO – -(Ammoland.com)- Recently the Backcountry Hunters & Anglers (BHA)—The Sportsman's Voice for Our Wild Public Lands, Waters and Wildlife—held their North American Rendezvous in Denver (Mar. 21-23), where over 200 members from across the country celebrated BHA's 10-year anniversary.
From a small group of seven hunters and anglers, standing around a fire in U.S. Army veteran Mike Beagle's backyard during 2004, BHA has spring-boarded to a national organization with members in all 50 states and 17 state chapters.
In Denver we were joined by the likes of Colorado Parks & Wildlife (CPW) Director, Bob Broscheid, who extolled on how proud he is to lead and work alongside so many sportsmen and women and others dedicated to protecting wildlands and wildlife. U.S. Rep. Scott Tipton (R-CO) talked about fishing the West Slope's many streams and rivers, and how his Hermosa Creek Watershed Protection Act will help preserve some of those waters for future generations. Similarly, Senator Mark Udall (D-CO) talked up his Browns Canyon National Monument and Wilderness Act and its importance to hunters and anglers and big game, along with continued funding of the Land & Water Conservation Fund (LWCF).
Other speakers included Jim Posewitz, director of Orion the Hunter's Institute, who covered issues like the threat of drones to fair chase hunting. Clay Hayes (owner of Twisted Stave, a traditional archery and bow building website/community) publicly released his new film, "the untamed." Kent Ingram, president of the Colorado Wildlife Federation, gave a mule deer hunting seminar. Peter Kummerfeldt, former Survival Training Director at the United States Air Force Academy, spoke about outdoor survival skills. U.S. Army veteran, Paul Vertrees, a Tenkara USA guide, put on a backcountry angling seminar. And U.S. Air Force veteran, Eric Lynn (owner of Mountain Ridge Gear), showed us how he hunts big game with rescued feral burros.
We were also joined by the founder of BHA's first official chapter (the Colorado Backcountry Hunters & Anglers), former Marine Corps helicopter pilot David "Elkheart" Petersen (author of A Man Made of Elk). Since then, the title of Colorado BHA chairman has been passed on to me, a former Air Force missile launch officer.
And later this year (6-8 June) we'll hold our sixth annual Colorado BHA Rendezvous in the San Juan Mountains south of Pagosa Springs. While there we'll celebrate our successes, take stock of our losses, and strategize on how to protect and perpetuate wildlands and wildlife for future generations of hunters and anglers and others. Join us!
For additional information see: www.backcountryhunters.org.