This event is 2A FlashMob Approved, anyone attending will automatically qualify for their own FREE 2A Mob Patch.
Groton, CT--(Ammoland.com)- The Connecticut Citizens Defense League (The state's largest grass roots 2nd Amendment rights group) will be hosting a gun rights rally at the Capitol in Hartford.
The rally will take place on Saturday April 5th from 12:00pm-3:00pm. The event is being attended by 2nd Amendment supporters from numerous states. Limited parking is available at the capitol, with public parking available throughout the area.
The rally marks one year since Governor Malloy signed a massive gun control act into law.
CCDL President Scott Wilson stated the following:
"We intend to gather in a peaceful manner and we are as determined as ever to see this law overturned in federal court, or repealed by the state legislature one day". "We can assure our elected officials that we do not accept this unjust law as a permanent fixture in our lives."

Wilson also went on to say: "Connecticut gun owners appreciate the support from other states that have reached out to us recently". "We look forward to standing alongside our fellow citizens us on this day".
Speakers for the event will include several political candidates, 2nd Amendment Rights Supporters, 2nd Amendment Rights Attorneys and others. Representatives from the National Rifle Association will be on hand also. CCDL is asking those that plan on attending to be aware of all state and federal firearms laws. Please visit their website for additional details: www.ccdl.us
About the CCDL: The Connecticut Citizens Defense League was formed in February 2009 by a small group of concerned citizens as a non-partisan organization to advocate second amendment rights in the state of Connecticut. Since their founding, the group has grown to more than 13,000 members. Thanks to this large supportive base across the state the CCDL has become a fixture of the capitol, and well recognized by committees that see firearms related bills.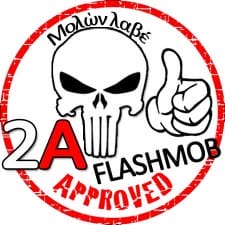 CCDL is also actively involved at the state Board of Firearms Permit Examiners. As the go-to organization in the state they are consulted with regularly by lawmakers who have questions and concerns about pending legislation or existing laws. For more information regarding CCDL, please visit https://www.ccdl.us
Scott Wilson Sr.
President
CCDL, Inc.
www.ccdl.us
About 2A Flashmob: 
In an effort to motivate gun owners and Second Amendment Supporters to show up in person at important events and rallies AmmoLand Shooting Sports News is giving away FREE 2A Flashmob Patches to anyone who attends a protest, rally, open carry event, committee hearing at your state capital or a Moveon.org counter protest. (You may already be eligible)
Spread the word, get out, get active!