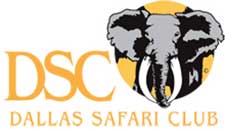 DALLAS, TX – -(Ammoland.com)- Erwin Kotze was a young, rising star among Africa's professional hunters.
But when an elephant killed him during a hunt in 2013, his family couldn't afford a proper burial.
Kotze's story became the latest tragedy in a long list of guides, trackers and others killed or disabled on the job—and the tipping-point inspiration behind a new Dallas Safari Club (DSC) initiative to help.
The DSC Frontline Foundation launched recently as a way for hunters to give something back to the professionals who work, often at great personal risk, to make hunting adventures possible.
The new foundation administers a relief fund, seeks donations and provides contributions to eligible professional hunters and their assistants who are seriously injured (or to the families of those who are killed) in the course of providing hunting services.
Details are available at www.dscfrontlinefoundation.org.
"I don't know of any other organization or fund that stands for this cause, that has resources before a need is manifested, and that can be ready to help on an expedited basis," said Ben Carter, DSC executive director. "Rarely is health, disability or life insurance associated with these occupations, and so we all grieve when someone in the industry is seriously injured. Now we can do even more."
DSC Frontline Foundation volunteer directors include Carter, Richard Cheatham, Tim Danklef, Karl Evans, Dave Fulson, Allen Moore, Greg Oliver, John Patterson and Jim Tolson.
Advisory board members include Ivan Carter, Mike Hammett, Shane Johnston, Kaan Karakaya, Marina Lamprecht, Peter Thormalen and Hans Vermaak.
Carter said, "The fund is already building through donations and pledges by direct mail, wire transfer, online and via credit card. We're also taking long-term pledges on payout terms. We hope everyone who has ever relied on professional hunting services will help support those who put themselves on the frontline for us."
The foundation is a 501(c)(3) charity; donations may be tax deductible.
About Dallas Safari Club
Desert bighorns on an unbroken landscape, stalking Cape buffalo in heavy brush, students discovering conservation. DSC works to guarantee a future for all these and much more. An independent organization since 1982, DSC has become an international leader in conserving wildlife and wilderness lands, educating youth and the general public, and promoting and protecting the rights and interests of hunters worldwide. Get involved at www.biggame.org.