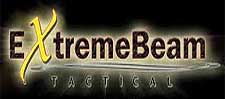 St. George, UT –-(Ammoland.com)-  Sport, tactical and industrial flashlight manufacturer ExtremeBeam has announced its official sponsorship of upcoming Personal Defense Network National Tour headed by renowned personal defense trainer Rob Pincus.
The PDN tour was designed to bring the network's famed personal defense training to communities across the country for a more personal and hands on experience. Now in its fourth year, the PDN Tour will host more than 90 classes across 26 states from March 22, 2014 through August 10, 2014.
"Seeing the work that Personal Defense Network has done over the years and knowing the work that Rob Pincus continues to do, it was a no brainer for ExtremeBeam to sponsor the tour," said ExtremeBeam President and CEO David Wilson. "We're excited that people all across the country will be learning the best personal defense techniques while using our product."
Throughout the tour, personal defense trainer Rob Pincus will post weekly updates to the PDN's website and social media pages, including personal defense techniques using ExtremeBeam's industry leading tactical flashlights.
"Although the ExtremeBeam is fairly new to the scene, they've really set themselves apart from the rest of the industry with their technology and craftsmanship," said Pincus. "We're really proud to have them as a sponsor."
For more information about the Personal Defense Network Tour, including sign up information and event dates, visit www.personaldefensenetwork.com.

About ExtremeBeam
Alpha-TAC's ExtremeBeam is committed to providing the best Sport, Tactical, and Industrial lighting products available on the market. Superior engineering and craftsmanship allow them to outperform and outshine other high-end lighting products of the same class. For more information about ExtremeBeam and its complete line of products visit wwww.extremebeam.com.
ExtremeBeam – A Shining Light in the Face of Darkness