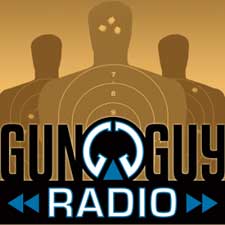 DeKalb, IL –-(Ammoland.com)-  Guest hosts J.W. Ramp from the AR-15 Podcast and Ryan Cross, host of the Gun and Gear Review Podcast, build on last week's episode for new shooters with a great discussion on issues that need to be addressed by new concealed carriers.
J.W. and Ryan recognize that many of the concerns of new carriers are personal in nature, they provide their thoughts and advice on issues such as carry position, caliber choice, handgun size, holster type and familiarity with local laws and regulations.
There are so many topics that new concealed carriers must consider when beginning the process of safe and legal concealed carry.  In this week's episode, J.W. and Ryan provide a variety of good suggestions on what, where, when and how to carry a concealed firearm.
Not surprisingly, personal experience and continuous training are at the top of their list for how to make sure that you are effectively exercising your right to self-defense in the public sphere.
Brownell's Product Category Manager Paul Levy brings out his inner book worm in this week's Product Spotlight.  Paul gives GGR listeners a quick and positive review Bruce Canfield's outstanding book about one of the most celebrated battle rifles of all time – "The M1 Garand".  Not only is the book well organized and informative, it provides many great photographs of the rifle during the manufacturing process and in use by a variety of American soldiers.
"If you have an M1 Garand this is probably a 'must have'."
GGR wants to make you a winner.  One lucky Gun Guy Radio listener will win a Bond Arms Back Up in .45 ACP.  Each gun or gear review submitted to the Firearms Insider before April 30, 2014, is a separate entry into this giveaway.  There is no limit to the number of entries that any one person can submit.  All reviews should be submitted at http://firearmsinsider.tv/submit/
Listen to this episode at www.gunguyradio.com/110 or subscribe to the show on iTunes to listen to any of the prior episodes.  Visit the Firearms Insider Community at www.firearmsinsider.tv.
About Gun Guy Radio:
Gun Guy Radio is an on demand talk show that stays positive and leaves out the politics. The podcast features a variety of popular guests that cover a wide range of topics that firearms enthusiasts crave. Each episode delivers entertainment, education and encouragement that expands firearm ownership and knowledge to the current and next generations. Gun Guy Radio is found on the Firearms Radio Network and releases every Sunday at 12:00 pm central time. Subscribe to the email list and listen via Apple iTunes, Stitcher Radio or www.gunguyradio.com.