By Marion P. Hammer December 7, 2013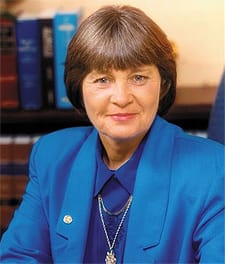 Florida – -(Ammoland.com)- Nothing in Florida's SB-448 and HB-89, the House Companion, allows warning shots nor do they promote or encourage warning shots.
Warning shots are not safe. Nonetheless, when people are in fear for their lives or the lives of loved ones, they might fire a warning shot rather than shoot someone. People make mistakes and do irrational things when in fear of death or injury. That doesn't mean they should go to prison for 20 years when there was no injury or harm done.
Warning shots are an unsafe result of the glorification of such conduct in movies and on TV. No one is recommending warning shots.
Nonetheless, a father should not be prosecuted under 10-20-Life for firing a warning shot. No harm was done yet a father was sent to prison for 20 years for firing a warning shot to stop an attacker from harming his daughter.
A mother should not be charged under 10-20-Life for firing a warning shot to stop an attack by an abusive ex-husband. It caused no injury and no harm yet she was prosecuted and sent to prison for 20 years. These are not isolated cases.
The simple truth is the intent of the 10-20-Life law is being violated. The law was intended to be used to lock up criminals who use guns during the commission or attempted commission of crimes.
It was intended to stop prosecutors and judges from slapping gun-toting criminals on the wrist so they could quickly clear cases.
The 10-20-Life law was never intended to be used against citizens who, in an act of self-defense, threatened the use of force to stop an attacker, including the unwise use of a warning shot. Yet, that's what some prosecutors are doing. They are willfully and knowingly violating the intent of the law.
The cold hard reality is that some prosecutors are treating law-abiding people like criminals. People who never would have been in the system had they not been attacked and in fear for their own safety are being prosecuted. Self-defense is not a crime, it is a right and prosecutors are trampling those rights.
The threat of force in self-defense should have the same protection as actually shooting someone in self-defense. You should not be required to shoot an attacker to have the protection of the law.
The issue is not warning shots, it's about protecting people from the abuse of prosecutorial discretion.
Marion P. Hammer is a past president of the National Rifle Association and executive director of Unified Sportsmen of Florida.
The 10-20-LIFE Law is a Minimum Mandatory law that mandates specific penalties for criminals who use guns to commit crimes:
10 years in prison for pulling a gun during the commission of a crime.
20 years in prison for shooting a gun during the commission of a crime.
25 years to Life in prison if you shoot someone during the commission of a crime.
For more information on 10-20-Life go here: