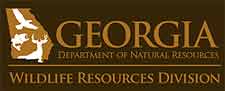 SOCIAL CIRCLE, Ga. –-(Ammoland.com)-  Exhibiting exceptional enthusiasm for the management of wild turkey is one way to describe the recently honored Wildlife Manager of the Year, John Adams.
This award, given by the Georgia Chapter of the National Wild Turkey Federation is to recognize a Georgia Department of Natural Resources' Wildlife Resources Division employee for their efforts at managing for wild turkey, raising public awareness of conservation and wildlife management issues, improving wildlife habitat, and increasing hunting opportunities.
"John Adams consistently goes above and beyond his job duties making him an easy selection to nominate for this award," said John Denton, region supervisor for the southwest Georgia game management region.  "His work ethic and his passion for wildlife habitat management are second to none."
John Adams, a natural resources technician, is assigned to managing such areas as River Creek Wildlife Management Area in southwest Georgia.  The quota turkey, dove, deer, and waterfowl hunts at River Creek WMA are some of the most sought after by hunters, due in large part to Adams' management efforts on this property.
Both game and nongame wildlife populations thrive at River Creek WMA thanks to the maintenance schedule that Adams uses.  This includes numerous wildlife habitat techniques, one of the most beneficial being a specific two-year prescribed fire rotation.  In fact, the area has been likened to many famous quail plantations for its high quality dove fields, fallow fields, waterfowl impoundments and forests.
"John's conservation efforts are a fine example of the passion and dedication possessed by the professional wildlife managers in WRD," said John W. Bowers, Chief of the Game Management Section.  "He has clearly earned this prestigious recognition and we are all very proud of him."
For more information about the Georgia Chapter of the NWTF, visit www.georgianwtf.org .  For more information on turkey hunting in Georgia, visit www.gohuntgeorgia.com/hunting/regulations .