Contact your state Senator today and urge him or her to support the permitless carry amendment.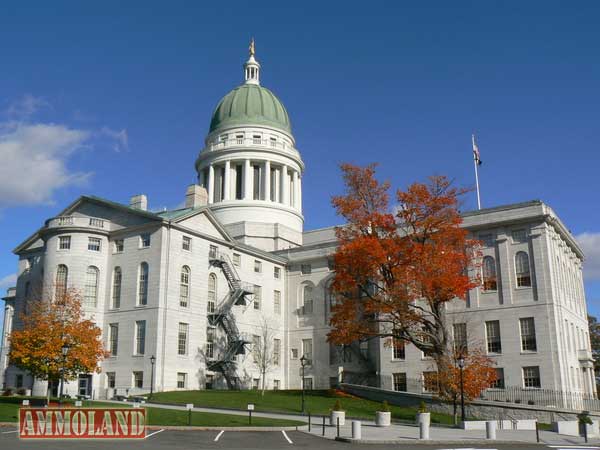 Charlotte, NC –-(Ammoland.com)-  Due to a drafting error in the amendment, received just minutes before the vote, the "constitutional carry" amendment to Legislative Document 222 was postponed indefinitely yesterday in the state House of Representatives by 76 to 59 vote.  Sixteen legislators were absent from this vote, a number of which would have supported our amendment as originally proposed.
As early as tomorrow, LD 222 could be considered in the state Senate, where a similar "constitutional carry" amendment will be offered to this bill by state Senator Garret Mason (SD-17).  This amendment would again create a permitless carry exemption to allow a resident of Maine, who is not otherwise prohibited by law, from possessing a firearm to carry concealed without obtaining a Concealed Handgun Permit (CHP).
In Maine, existing law allows any resident who can legally own or possess a firearm to carry it openly, either loaded or unloaded, anywhere in Maine where lawfully permitted.  Since law-abiding citizens are allowed to carry a firearm openly without a permit, they should not become criminals just because they put on a jacket or place their firearm in their purse or briefcase.
This amendment would provide a much-needed right-to-carry reform for citizens of the Pine Tree State, and your state Senator will be a key vote on this amendment!  A close vote is expected so it is critical that you contact your state Senator immediately and politely urge him or her to support the "Mason Permitless Carry Amendment"  to LD 222.
Click here for help identifying your state Senator to e-mail or call them in their district.  Make sure you also contact your state Senator in Augusta at (207) 287-1540.
About:
Established in 1975, the Institute for Legislative Action (ILA) is the "lobbying" arm of the National Rifle Association of America. ILA is responsible for preserving the right of all law-abiding individuals in the legislative, political, and legal arenas, to purchase, possess and use firearms for legitimate purposes as guaranteed by the Second Amendment to the U.S. Constitution. Visit: www.nra.org