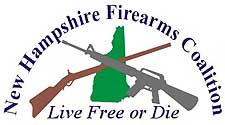 Milford, NH –-(Ammoland.com)- Jon and I have been warning you about the insidious nature of SB 244 for 3 months.
We have been working hard to stop this bill.
Unfortunately, a group that we thought was one of our allies and would stand fast against any compromises to your civil right to be armed has capitulated to the anti-gun crowd and made a deal to support SB 244 as amended.
I wish I didn't have to bring this bad news to you, but I do. Make no mistake, SB 244 is still an anti-gun bill and it will still be used by the extreme gun ban leadership in the House to attach all sorts of anti-gun amendments and modifications.
For those of you who have followed Second Amendment issues in New Hampshire for more than just the past 2 years, you should know who Mike Hammond is. Mike is an attorney, a resident of Dunbarton, has worked in the United States Senate and is currently the Legislative Council to Gun Owners of America. Several NHFC Officers and Directors have worked with and known Mike for 20 years or more. He is a true American Patriot who has in many ways made history through his work in Washington. Larry Pratt, Executive Director of Gun Owners of America listens to his wisdom and I suggest you do as well. Rather than writing a new alert, I am simply forwarding you a copy of a letter he has written to all New Hampshire State Senators. (below)
His letter clearly explains why SB 244 is a bad bill that must be stopped.
You should also know that we have seen this type of compromising before. We have seen it here in New Hampshire and in Washington, DC. We know from experience that if we fight back, we can stop "gun control lite". We can stop the compromises and the deal making. We can stop gun control in its tracks. The way we do that is through you, the grassroots gun owners. You need to call and email all New Hampshire State Senators. SB 244 as amended will be heard 10 AM, Thursday, March 27th 2014. The two caucus will meet on Tuesday March 25 2014 or Wednesday, March 262014  to plan how they will vote.
We need Second Amendment supporters to call this now and let them know how they feel about the poorly conceived annulment process and anti-gun study committee that has been amended onto SB 244.
The message to Senators is simple: No compromises, no deals, vote SB 244 "Inexpedient to Legislate". Insist that Senators oppose any motion for "ought to pass".
Click here for contact information for all State Senators.
Thanks for your support.
In Liberty,
Jonathan R Evans, Signature
Scott A. Krauss
Vice President, NHFC
——– Original Message ——–
MICHAEL E. HAMMOND
ONE STARK HIGHWAY SOUTH
DUNBARTON, NEW HAMPSHIRE 03046

March 20, 2014

Dear Senator:

I understand that the multiplicity of drafts and opinions on Senate Bill 244 have caused much confusion.

I believe it is a mistake to move this bill in this cloud of confusion and cacophony.

As originally introduced, Senate Bill 244 would have required the submission to NICS of the names of Granite Staters with involuntary commitments or appointed guardians. My mother was one those poor unfortunates who had guardians appointed pursuant to New Hampshire's procedures. And I can tell you that that procedure was a "star chamber" proceeding in the basement of Concord Hospital, in which neither my mother nor her family was represented, and in which she was deemed to have waived all of her statutory "rights." It took four weeks and $5,000 for our family to terminate that guardianship. And, by that time, my mother, who was once a vibrant human being, was returned to us as a vegetable. As a result, she died shortly thereafter.

It offends me that people like my mother would be placed on NICS' "dangerous persons" list. True, for the time being, the outright gun ban has been replaced in S.B. 244 by a "study" of whether to implement a gun ban. I have counted the members of that "study" committee over and over again — and I see no way that it is not going to recommend the same gun ban — after the election.

On October 28, in an Associated Press article, Bloomberg supporters made it clear that the bill which was to become S.B. 244 was, for them, a stepping stone for the Bloomberg people to put "points on the board," in anticipation of further gun control.

Passage of S.B. 244 would energize Bloomberg gun-haters and would demoralize and anger Second Amendment activists who have contacted you in large numbers.

Somehow, people who claim to respect the Second Amendment seem obsessed at passing something — anything. This is foolish strategy. While Toomey-Manchin was being considered in the U.S. Senate, we were told we would look "unreasonable" if we didn't agree to a compromise. Instead, the defeat of every word of gun control made the gun lobby look more formidable than ever.

So, I would plead with you to insure that you don't take actions which you and gun owners will regret.

As always, thank you for your support of the Second Amendment.

Sincerely,

Michael E. Hammond
About New Hampshire Firearms Coalition:
The New Hampshire Firearms Coalition is New Hampshire's only No Compromise Gun Rights Organization. While many so-called "gun rights groups" work to curry favor with politicians and the media, NHFC is working aggressively to hold politicians accountable and to put a stop to gun control. Visit: www.nhfc-ontarget.org