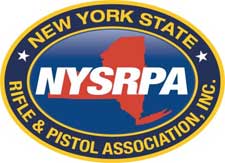 New York –-(Ammoland.com)- Please find attached a copy of the Revised New York State Police SAFE Act Guide. Note on page 8 the highlighted area that states:
Possessing a magazine loaded with more than 7 rounds / New PL section 265.37
New PL section 265.37 had made it a crime to load any magazine with more than 7 rounds of ammunition, regardless of the capacity of the magazine. On December 31st, the United States District Court for the Western District of New York issued a decision as a result of challenges to various provisions of the New York Safe Act. While the federal district court upheld most of its provisions, the Court held that this section, "Unlawful Possession of Certain Ammunition Feeding Devices," was unconstitutional. As a result of the Court's decision members are instructed not to enforce PL 265.37 at this time.
As you see this is a direct result of The NYSRPA and other Plaintiffs Legal action in Buffalo, NY. We are in the process of notifying the NYSP and others that the decision also declared unconstitutional the "Muzzle Brake" section of the SAFE Act; therefore those sections of the Penal Code and the enclosed "Field Guide" should also be revised.
We would like to thank The Westchester County Firearms Owners Association, Sportsmen's Association for Firearms Education, AR15.com, NYS Amateur Trap Association and the other plaintiffs for lending their stories to our suit. I would also like to personally thank Scott Somavilla of WCFAO for his support and guidance and the others who remain anonymous for their important support. We could not have done it without all of you.
We are presently waiting for all documents to be filed in our Appeal to the 2nd Circuit Court of Appeals, when that happens we will let everyone know the next step and post those documents.
I would like to thank all of the supporters who have stood by the NYSRPA and helped us grow into the Nation's largest NRA State Association.
Tom King
Cogito ergo sum ​​armati
Revised NYSP SAFE Act State Police Guide
About:
The New York State Rifle & Pistol Association is the state's largest and oldest firearms advocacy organization. Since 1871, our organization has been dedicated to the preservation of Second Amendment rights, firearm safety, education and training, and the shooting sports. Our membership consists of individuals and clubs throughout the state. We are a not-for-profit 501(c)4 organization and the official NRA-affiliated State Association in New York. Visit: www.nysrpa.org