By Dean Weingarten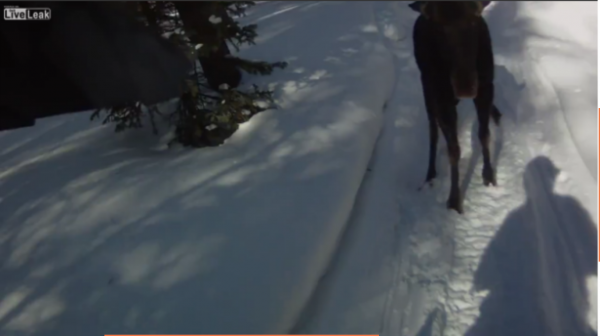 Arizona – -(Ammoland.com)-  In this dramatic video, a snowmobiler travels along a remote snowmobile trail.
A moose is blocking the trail, and the snowmobiler does everything they can to defuse the situation without bloodshed. They make considerable noise to warn the moose that they are there.  Snowmobiles do not have a reverse, and the track is narrow and hemmed in by thick woods. Getting off the snowmobile would make the snowmobiler much more vulnerable.   In the deep, fluffy snow, he and or his machine is likely to bog down. Unknown to the viewer, another snowmobiler is coming up from behind and could quickly come under attack if the first snowmobiler allows the moose to kill or disable them.
The snowmobiler gets a little closer to get the moose to move away.  The moose does a false charge, to be met with more shouts and noise from the snowmobiler trying to defuse the situation.   The false charge turns into a very short retreat, immediately followed by a full-on attack.   The snowmobiler escapes severe injury or death by sheer luck. The moose retreats a short way, and the snowmobiler uses this reprieve to draw a Glock pistol and chamber a round.
The moose starts to attack again, and the snowmobiler uses his last possibility to defuse the situation, a warning shot.   It does not work, and the snowmobiler fires three well-aimed shots that almost instantly put down the threatening animal.  A fourth finishing shot is fired to make sure.  All shots, from a warning to finishing, take place in four seconds.  (:51 to 55) on the video.  The time from the physical contact of the attack to the last shot is 10 seconds.
The snowmobiler then rides by to a meadow, where they stop and look back to make sure that the following snowmobiler was able to catch up to them safely.
---
About Dean Weingarten;
Dean Weingarten has been a peace officer, a military officer, was on the University of Wisconsin Pistol Team for four years, and was first certified to teach firearms safety in 1973. He taught the Arizona concealed carry course for fifteen years until the goal of constitutional carry was attained. He has degrees in meteorology and mining engineering, and recently retired from the Department of Defense after a 30 year career in Army Research, Development, Testing, and Evaluation.