Innovative grip adds a picatinny rail to your 1911 in 3 minutes without a Gunsmith.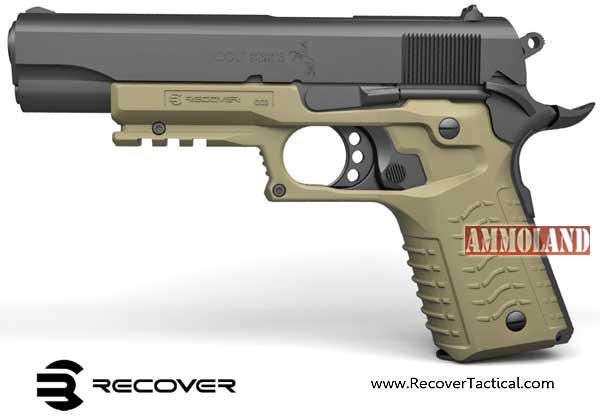 Los Angeles, CA – -(Ammoland.com)- Recover Tactical is proud to announce the release of the new Recover CC3 2-in-1 grip and rail adaptor for 1911. The patented design of the CC3 fits all standard size 1911 guns and can be easily installed in about three minutes without a gunsmith.
Launched to the public at SHOT Show 2014, the Recover CC3 was design by world renowned Israeli weapons designer Tamir Porat (Porat also designed the IWI Tavor assault rifle). The CC3 grip is manufactured in Israel on the same manufacturing line used by many large polymer gun manufacturers.
Produced from the same high-grade polymer used by many polymer gun manufacturers, the Recover CC3 will not scratch or damage your gun. Weighing in at only about 80 grams it will not significantly change the weight of your gun or the thickness of the handle.
The Recover 1911 grip and rail system is currently available in black, desert sand and olive green and comes with a limited lifetime warranty. Retailing for only $49.99, the CC3 is the easiest and most affordable way to add a full picatinny rail to any standard sized 1911.
According to Ron Rosenberg, President of Recover Tactical, "The CC3 offers an incredible value for gun owners who want to add a rail to their 1911 but don't want to buy a new gun. Our goal is not to offend the purists, but to provide a truly functional and universal rail accessory that won't break the bank.  There is a large market of 1911 owners who can't wait to get a Recover CC3 onto their gun and they have shown us amazing support so far."
In fact, nearly all of Recover's first customers have been very happy with the CC3's fit on their guns and its feel in their hands. Initial reviews from actual customers on Recover's Facebook page and on popular gun forums have also proven that the CC3 is a quality design that lives up to its hype.
For more information or to purchase the Recover CC3 grip, visit www.RecoverTactical.com.
For dealer inquiries, contact CampCo at 323-766-2555, or visit campco.com.
About Recover Tactical
Recover Tactical is a recognized leader in developing innovative firearm accessories that add both additional function and tactical beauty to your gun.