Biloxi, Mississippi-(Ammoland.com)- They say you never forget your first love. I've stated before that the first gun I ever purchased was a Ruger 10/22 rifle on my 18th birthday.
Coincidentally, when I was a eighteen years old I worked at a record store. (For the youngins out there, 'records' were black vinyl discs that you'd spin around on a turntable and music could be heard.)
That record store was owned by a woman whose husband was into the outdoors and shooting. When he discovered we shared similar interests, he showed me his Ruger MkII .22LR pistol. Although I had a pretty fair amount of experience with a .22 rifle and shotguns, I was essentially a novice when it came to handguns.
One Saturday afternoon we loaded up into Mike's pickup truck and drove to the county landfill, otherwise known as the 'rimfire shooting gallery'. In addition to the requisite soup cans, beer bottles and the like, people would discard their old appliances, refrigerators, etc. A freshly disposed of appliance, free of bullet holes, was a prize to be sure. Mike explained the operation of the Ruger pistol, how to hold it and aim it. We started with relatively large targets. When those became too easy, he moved me on to pop and tin cans.
Nearly thirty years has gone by now and I can still recall that day. I found that I had a knack for handgun shooting. My eyes were young and clear and my reflexes sharp. That Ruger MkII seemed to me to be the perfect .22LR handgun. Mike let me shoot his Ruger pistol several times after that first day. Though I was still three years shy of being able to purchase one myself, but I put it on my 'to do' list.
Soon thereafter I would enlist in the Marine Corps and gain tremendous experience with centerfire handguns, but the Ruger pistol yet lingered in my thoughts. I was married and had children before I found a used MkII in a gun shop that seemed to by the exact replica of the one I'd learned to shoot with all those years earlier.
Read the Entire Article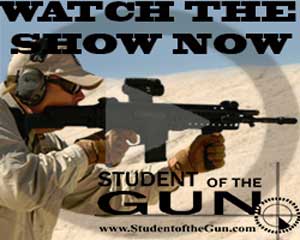 Student of the Gun is the #1 source for education, enjoyment and enlightenment of real-world firearms including: training, videos, radio, books and articles. A beginner once, a student for life. www.studentofthegun.com
Being a Student of the Gun is not about being a novice or beginner. Student of the Gun represents a lifelong journey of education, enlightenment and the enjoyment of firearms. Each episode will introduce the viewer to new and interesting firearms as well as the latest gear to go with them.
We will travel throughout the United States, seeking the advice and expertise of the best firearms trainers available. Sometimes deadly serious, sometimes just for fun, Student of the Gun will always strive to educate and entertain our viewers while offering them an insiders' look at the worlds of firearms.
Student of the Gun is proud to bring you exclusive gun/gear giveaways and complimentary training. We are always giving away something to our fans to show our appreciation for YOU. To view our current giveaway, visit www.studentofthegun.com/join-our-team. We couldn't bring you these exclusive giveaways without the support of our fantastic sponsors. Be sure to check them out and let them know you appreciate them as much as Student of the Gun does!
Watch the TV show weekly (9 p.m. EST) on DISH Network Channel 266 www.huntchannel.tv , view 24/7 on demand, or listen to SOTG Radio at www.studentofthegun.com.