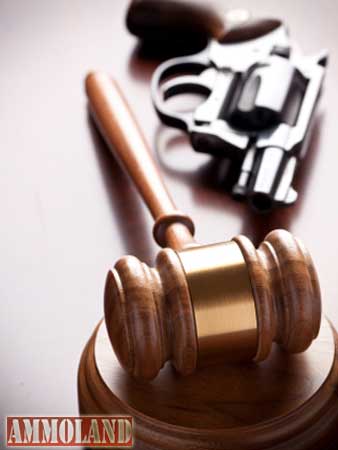 BELLEVUE, WA –-(Ammoland.com)- Just over two months into 2014 and the Second Amendment Foundation continues to earn one victory after another.
It is no doubt going to be a record setting year earning victories for our gun rights.
SAF and The Calguns Foundation recently earned a significant victory when the Ninth Circuit Court of Appeals reversed and remanded the case of Richards v. Prieto, challenging the handgun carry license issuing policy of Yolo County, California, Sheriff Ed Prieto.
We must apply unrelenting pressure on the anti-gunners to continue our victory streak throughout 2014. The Second Amendment Foundation will not rest until every citizen's Second Amendment Rights are protected from coast to coast.
This ruling reinforces the Second Amendment's application to state and local governments, and will help clear the way for more California citizens to exercise their right to bear arms. California officials have been put on notice that they can no longer treat the Second Amendment as a heavily-regulated government privilege.
The case was originally filed in 2009 as Sykes v. McGinness, and challenged not only Yolo County's policies, but Sacramento County's then-restrictive practices as well. SAF, Calguns and two private citizens, Adam Richards and Brett Stewart, continued pursuing the case against Yolo County after Sacramento County agreed to relax its policy. Plaintiffs are represented by attorneys Alan Gura and Don Kilmer.
"We are confident that the win today will stand the test of time," said Calguns Foundation Chairman Gene Hoffman.
The Richards case was argued at the same time, and to the same panel, that earlier decided Peruta v. County of San Diego, a similar case challenging overly-restrictive carry license policies. Yolo County and Sheriff Prieto argued that their policies were distinguishable from those struck down in Peruta, but apparently the three-judge panel unanimously disagreed.
"The Ninth Circuit's decision moves our Carry License Compliance Initiative forward," explained CGF Executive Director Brandon Combs. "We're already preparing the next phase of litigation to ensure that all law-abiding Californians can exercise their right to bear arms."
The battle over right-to-carry laws is far from over, but this Ninth Circuit decision reaffirms that court's earlier ruling in the Peruta case and moves the ball another step forward.
We will pursue Second Amendment affirmation wherever and whenever such cases are possible as SAF fights to win back gun rights one lawsuit at a time.
We currently have over twenty open court cases throughout the United States defending our Second Amendment.
We earned multiple victories in the court systems throughout 2013. These victories ranged from challenges to a public housing gun ban along with multiple victories to protect conceal carry laws in separate states. We hope to close many more of these cases in 2014.
The Second Amendment Foundation is a grassroots organization which means we are funded by the people whose rights we are trying to protect. It is not popular to contribute or stand united with pro-gun organizations.
We do not have big shot donors like the big anti-gun groups. You hard working, Second Amendment loving patriots keep our doors open and we appreciate everything you do for us.
It is so reassuring to see our cities and states making such a difference in the fight to protect the Second Amendment. It helps us realize that each and every one of us can make a difference in this fight.
Together, we can preserve the Constitutional rights our Founding Fathers intended our people to have forever.
Thank you. I know I can count on you.
Sincerely yours, Alan M. Gottlieb
Founder
Second Amendment Foundation
P.S. Remember, the anti-gunners are raising tens of thousands of dollars to steal our rights from us — we need your support now to help stop them dead in their tracks!
To send a check, please mail to:
Second Amendment Foundation
James Madison Building
Dept Code 150
12500 NE 10th Place
Bellevue, WA 98005
The Second Amendment Foundation (www.SAF.org) is the nation's oldest and largest tax-exempt education, research, publishing and legal action group focusing on the Constitutional right and heritage to privately own and possess firearms. Founded in 1974, The Foundation has grown to more than 650,000 members and supporters and conducts many programs designed to better inform the public about the consequences of gun control.
Paid for by Second Amendment Foundation, a 501(c)3 non-profit organization. Contributions are tax deductible. Copyright © 2014 Second Amendment Foundation, All Rights Reserved.