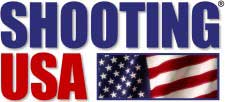 USA – -(Ammoland.com)- Shooting USA – The USPSA Production Gun Nationals
"Win on Sunday, Sell on Monday" has made the Production Gun Nationals the most significant run-and-gun competition. The best pro shooters are competing with their manufacturer's stock pistols hoping a National Championship will persuade you to buy their gun. Plus, the FP-45 Flare Projector that would get the name Liberator after the war. And John changes a shotgun bead to improve your shooting in a Brownell's Home Gunsmithing Tip.
Shooting USA's Impossible Shots – The Old Sniper
We return a WWII sniper from the Battle of the Bulge to Fort Benning, GA to help him make a dream shot he couldn't imagine in 1943 – a head shot at 1,000 yards. He'll have the help of the Army's top sniper team and their rifle to attempt the shot. It's an encore performance that will leave you amazed.
NEW AIR TIMES BY TIME ZONE
The Shooting USA Hour Wednesdays:
Eastern Time: 2:00 PM, 9:00 PM, 12:00 Midnight
Central Time: 1:00 PM, 8:00 PM, 11:00 PM
Mountain Time: Noon, 7:00 PM, 10:00 PM
Pacific Time: 11:00 AM, 6:00 PM, 9:00 PM
Shooting USA is listed as a one hour show in your cable menu.
Shooting USA's Impossible Shots – 4 Times on Wednesdays:
Eastern Time: Noon, 3:30 PM, 7:00 PM, 3:30 AM
Central Time: 11:00 AM, 2:30 PM, 6:00 PM, 2:30 AM
Mountain Time: 10:00 AM, 1:30 PM, 5:00 PM, 1:30 AM
Pacific Time: 9:00 AM, 12:30 PM, 4:00 PM, 12:30 AM
Out of our Ice Storm and heading for the Sun:
Now that Nashville has thawed out, we hope for the last time this winter; we're wrapping up production this week on the Smith & Wesson IDPA Indoor Nationals coverage.  The show will be airing at the end of this month.
Then Puerto Rico
John has the tourist assignment, leading our TV crew south to Old San Juan and the beaches of Caguas for defensive pistol competition at the Puerto Rican IDPA National Championship. Officially it's the Commonwealth of Puerto Rico, a U S Territory since 1898, with both Spanish and English spoken, but Spanish is the dominant language. So we're sending long time editor Carlos along as guide and translator for the team.
Are you Connected?
The Shooting USA Show Page on Facebook will likely be showing you photos coming in from Puerto Rico this week.  Get connected and keep up with what's happening, both on TV and behind the scenes.
https://www.facebook.com/JimScoutten.ShootingUSA
Jim
Defending the 2nd by Example in the 21st Year