Contempt for civil rights a hallmark of the NYC-dominated Democrat Party.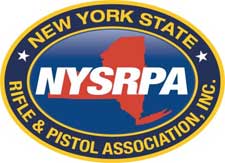 New York –-(Ammoland.com)- New York State Rifle and Pistol Association President Thomas King announced today that all bills calling for the repeal of the so-called NY SAFE Act, including Assembly Bill 6094 co-sponsored by Minority Leader Brian Kolb, were effectively killed in the downstate Democrat-dominated Codes Committee and therefore will not be brought to the Assembly Floor for a vote.
"This was entirely expected," said King.

"The sad reality is that one political party and one viewpoint dominates the Assembly: the anti-Second Amendment voice of the downstate Democrat majority. Upstate New Yorkers who oppose the NY SAFE Act ought to feel disenfranchised. This law is deeply flawed, and was passed in the middle of the night without input from law-enforcement, mental health professionals, or the public at large."
Citing the ongoing NYSRPA litigation against the NY SAFE Act, King stressed the need to remain focused and support efforts to overturn the law in the courts.
"Thus far, NYSRPA has spent over $500,000 in litigation. The final cost could be well over $1 million to take the appeal all the way to the U.S. Supreme Court. We won a victory in the Western NY Federal District Court where the 7-round magazine limit was deemed unconstitutional. Verbiage in the ruling indicates the strong possibility of overturning several onerous stipulations of the law by the Supreme Court, but it will be a long and costly fight."
King also called on his membership to become politically engaged.
"We need to register voters. Legislators, particularly in upstate New York, who voted for the NY SAFE Act must be held accountable. There ought to be voter registration forms in every gun club and gun shop. There is no excuse for not voting this November if you are a concerned gun owner. We have to topple the hegemony of the anti-constitutionalists, enough is enough."
About:
The New York State Rifle & Pistol Association is the state's largest and oldest firearms advocacy organization. Since 1871, our organization has been dedicated to the preservation of Second Amendment rights, firearm safety, education and training, and the shooting sports. Our membership consists of individuals and clubs throughout the state. We are a not-for-profit 501(c)4 organization and the official NRA-affiliated State Association in New York. Visit: www.nysrpa.org