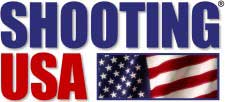 USA – -(Ammoland.com)- Shooting USA – The Back Up Gun Nationals
It's the match for the gun you actually carry, the first Backup Gun Nationals inside Smith & Wesson's ranges in Springfield, Mass. The snub nosed revolvers and pocket pistols are shooting head-to-head in competition that simulates CCW in the real world. Plus, the story of the moon clip, created for the M1917 Colt. Then John shows you how to improve your AR Trigger in a Brownells Home Gunsmithing Project. And Todd Jarrett shows you how to shoot your AR in unusual positions.
Shooting USA's Impossible Shots – The Classic 600 Yards of Bob
There's an old Montana legend about a cowboy shooting a deer at 600 yards with a handgun. Bob Munden looks to prove him right in a Classic Shot, 600 yards with a Smith & Wesson .44 Magnum on a steel target. And Mr. Flintlock is working on his favorite exhibition shot, cutting cards. The question is, how many can he cut with a single shot? Plus Smith & Wesson Pro Jerry Miculek creates the ultimate 3-Gun challenge, Rifle, Pistol, and Shotgun at incredible speeds.
AIR TIMES BY TIME ZONE
The Shooting USA Hour Wednesdays:
Eastern Time: 3:00 PM, 9:00 PM, 12:00 Midnight
Central Time: 2:00 PM, 8:00 PM, 11:00 PM
Mountain Time: 1:00 PM, 7:00 PM, 10:00 PM
Pacific Time: Noon, 6:00 PM, 9:00 PM

Shooting USA is listed as a one hour show in your cable menu.
New Times Shooting USA's Impossible Shots:
Eastern Time: 2:00 PM, 5:30 PM, 10:30 PM
Central Time: 1:00 PM, 4:30 PM, 9:30 PM
Mountain Time: Noon, 3:30 PM, 8:30 PM
Pacific Time: 11:00 AM, 2:30 PM, 7:30 PM
A Day in the Life of the Gold Medal Winner:
If you don't know what a day in the life of a two-time Olympic Gold medalist entails, you will in the weeks ahead. Our team has just returned from Fort Worth, Texas, where International Skeet Champion, Vincent Hancock is training for the 2016 Olympics, and also training a Junior Olympian, Christian Elliott, who just may give him a run for the gold in the future.
Are You Connected?
Shooting USA's Impossible Shots host Mike Irvine will be "live-tweeting" during this week's episode! Follow him on Twitter @SUSAImpossShots
And, "like" the Shooting USA Show Page on Facebook to get a "behind-the-scenes" look:
https://www.facebook.com/JimScoutten.ShootingUSA
Jim Defending the 2nd by Example in the 21st Year
[email protected]