Helps customers get lower manufacturing costs with the convenience of US-based service.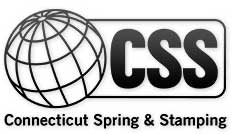 Farmington, CT –-(Ammoland.com)- Connecticut Spring & Stamping (CSS), a manufacturer of precision parts for the medical, aerospace, firearms and defense industries worldwide, describes its Asian manufacturing capabilities, which features strategic business alliances with qualified Asian manufacturers to provide all types of springs, wire form parts, metal stampings, assemblies and progressive dies.
Ideal for customers who have a physical presence in Asia or whose parts can be produced more economically there and imported to the United States, the program helps customers enjoy lower Asian manufacturing labor costs without all the obstacles associated with language barriers, time differences, and long lead times, as well as shipping charges and customs and currency issues.
CSS manages the process and takes full responsibility for ensuring quality, delivery and cost requirements from many Asian manufacturing locations. Service and technical needs, including purchasing, scheduling, part qualifications, certifications and quality documentation are handled from the company's Connecticut facility by its staff, which is certified in ISO 9001, AS9100C, and ISO 13485. If any problem arises in Asia or in transit, CSS' US manufacturing facility can step in as a backup, meeting the customer's needs with no price adjustments.
CSS has devoted significant time and resources for over a decade developing Asian manufacturing capabilities by identifying and qualifying the right affiliate partners capable of producing the same type of small tight tolerance precision parts as CSS USA, working through all business and communication issues, getting those partners on the same page with CSS, and debugging the process to ensure the right fit. CSS employs qualified technical personnel who live in Asia, speak the languages used in all manufacturing locations, and understand the culture, ensuring strong relationships and immediate problem solving.
"With our Asian affiliates, we offer the best of both worlds," said Bill Stevenson, president of CSS. "Our customers get low cost Asian pricing with the convenience of local USA service. The customer has no contact with the affiliate and requires no working knowledge of the logistics required to buy from Asia."
About Connecticut Spring & Stamping
Headquartered in Farmington, CT, Connecticut Spring & Stamping (CSS) is a manufacturer of all varieties of close tolerance precision parts for the medical, electronics, aerospace, firearms and defense industries worldwide. They provide springs, metal stampings, machined stampings & sub-assemblies for OEM's worldwide. In business since 1939, CSS prides itself in design and engineering involvement that starts with product development, and moves through prototyping, manufacturing, and assembly to warehousing and point of use. Headquartered in Farmington, Connecticut, CSS has warehousing facilities in Puerto Rico, Mexico, China, Dongguan and Singapore that allow our customers to build products with just in time (JIT) inventory.
For further information, please visit www.ctspring.com or call 860. 677.1341