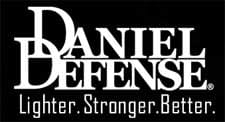 Black Creek, GA —(Ammoland.com)- Daniel Defense, engineering and manufacturing the world's finest weapons systems, precision rail systems and accessories, today announced a new finish intended for select rifle versions.
Daniel Defense Tornado, a shade of gray, will be launched at the 2014 NRA Annual Meetings & Exhibits in Indianapolis, Indiana, April 25-27.
The Cerakote finish is the second new color option Daniel Defense has launched this calendar year. Mil Spec +, a flat dark earth variation, was first unveiled at SHOT Show in Las Vegas, Nevada, in January.
"When you look for a new car, you have substantially more color options than just black," noted Jordan Hunter, Daniel Defense Director of Marketing.

"Customers want choices other than the mil-spec Type III hard coat anodizing, or matte black, and the Daniel Defense Tornado, we believe, will be well received by our customers."
Consumers can expect to see this new eye-catching option at firearms dealers and online beginning this July. Initially, Daniel Defense will offer the DDM4v5 and the V9 LW in the new finish, with additional models to be announced before the end of summer.
"We have kept this under wraps for quite some time and are excited to share this new signature color with our customers and fans," says Hunter.
Retail price for the first two Daniel Defense Tornado rifles will be $1819, and will include the new Daniel Defense Buttstock and Pistol Grip, also new to the DD line of products for 2014.
About Daniel Defense
President and CEO, Marty Daniel founded Daniel Defense at the turn of the 21st century. From its humble beginnings as a start-up company, creating rails and accessories for the AR-15 platform in small batches, Daniel Defense has grown exponentially over the last decade, and is now known for its premium line of rifles and firearms accessories. Now with two locations and a combined 137,000 square feet of available manufacturing space, Daniel Defense looks forward to continued growth, as well as the opportunity to better serve their customers.
For more information, visit www.danieldefense.com.