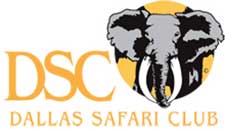 DALLAS, TX. -(Ammoland.com)- Dallas Safari Club (DSC) has joined several partners on a conservation project expected to benefit thirsty wildlife across a broad area of west Texas' extremely arid Big Bend region.
The joint effort resulted in construction of a monumental 4,600-gallon wildlife water guzzler. A guzzler collects, stores and rations rainwater to create a supplemental drinking source for wildlife.
Species expected to benefit from the new guzzler range from game animals like mule deer and desert bighorn sheep to protected species like elf owls and even endangered Rio Grande silvery minnows.
The guzzler is situated on El Carmen Land & Conservation Company's Adams Ranch in southern Brewster County, Texas, but the conservation benefits will extend onto adjacent ranches as well as Black Gap Wildlife Management Area and Big Bend National Park.
"This guzzler will capture over 1,000 gallons of water for every inch of rainfall – an essential resource for productive wildlife populations in this extremely arid region," said David Wetzel, who coordinated the project for the Mule Deer Foundation.
Volunteers from the Mule Deer Foundation, DSC, Texas Parks and Wildlife Department, Sul Ross University and Texas Bighorn Society worked together to build the guzzler.
Ben Carter, DSC executive director, added, "It's always fulfilling to accomplish something as a group that no single organization could have done by itself. Working together for wildlife is something that hunters have always done exceptionally well. Here's a big pat on the back for all the groups and volunteers involved."
Photos of the project can be found here on Flickr (photo credit to Thomas Janke and Bonnie McKinney).
About Dallas Safari Club
Desert bighorns on an unbroken landscape, stalking Cape buffalo in heavy brush, students discovering conservation. DSC works to guarantee a future for all these and much more. An independent nonprofit organization since 1982, DSC has become an international leader in conserving wildlife and wilderness lands, educating youth and the general public, and promoting and protecting the rights and interests of hunters worldwide.