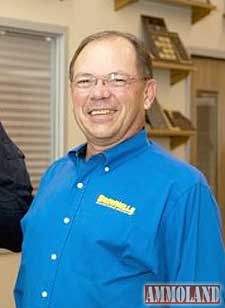 Des Moines, Iowa – -(Ammoland.com)- Well, some of you folks actually had some spring on the magic day – we certainly didn't.
Back below freezing, with a 12-degree wind chill, snow and ice – then rain for the weekend.  Those who have spring – Enjoy It – just don't tell the rest of us suffering folks about it!!
It's WAY past time to get outdoors and do some shooting . . . including Bows. Yes, bows!  I'm proud to announce that Brownells now sells archery supplies for all kinds of bow shooting – hunting, target archery, bowfishing.  We have it all: the bows, arrows, bolts, strings, nocks, and tons of accessories, even trail cameras to help you scout what's out there for fall!
You may ask, "Why?" Lots of you customers told us they wished they could also buy archery stuff from us, the same way you rely on us for gun parts, accessories, ammo and reloading supplies.  With a good many of our gang here at Brownells shooting bows and bow hunting, getting into archery just made a heckuva lot of sense. So we jumped in with both feet!
If you need anything for the spring turkey bow season, have we got you covered!  Compound bows from PSE, Diamond, G5 Outdoors, and many more name-brands, plus crossbows from Excalibur, Barnett, and Parker, to name a few.  Need arrows? We have brands like Easton, Muddy Outdoors, and Eastman Outdoors.  And for making sure the gobbler stays yours, we have a big selection of turkey broadheads from Magnus and ArrowDynamic Solutions, along with traditional broadheads from Rage and Muzzy plus others.
Need practice before you hit the woods? Check out targets from Rinehart and the realistic turkey target from Yo Buddy.  We've got so much stuff, it's impossible to give you more than a mere hint here.  Just go to the Archery section on our website to see it all.
Looking ahead, the NRA Annual Meetings & Exhibits are coming April 25-27, at the Indiana Convention Center in downtown Indianapolis.  We like to just call it the "NRA Show", as we're bringing along a bunch of our products for you to look over and fondle. We're bringing back our Dream Guns&38482;, too, which proved to be such a big hit with folks last year. We've displayed at every single NRA Show since 1947 – only 3 of us have been showing that long: Weatherby, Brownells and Champion's Choice who bought Freeland's when they closed and thus got their NRA years of service. That's 65-plus years of meeting up with our old friends, making new ones, and shaking hands and chatting with our customers at the most unique gathering of firearm enthusiasts anywhere in the world.  Please come if you can.  Definitely a great experience.  And, we're bringing in several busloads of our gang to see it too.  If you see someone in a Brownells shirt, probably one of ours, so say hi – might be the order taker you've been talking to for so long.
This year marks another big milestone for us: 75 years in business!  Yep, my dad, Pete's granddad, Bob started Brownells in 1939.  To celebrate, we're going to have a Special Edition 1911 Auto handgun on display at the booth, custom-built for us by Wilson Combat to celebrate our 75th anniversary.  But here's the best part: you can enter your name in a drawing to win this gun!  Gotta stop by and see this – we'll be at Booth #5563.  We really hope you make it to Indianapolis and come on over and say "Howdy" . . . and put your entry card in the drawing box.
Some exciting new gun stuff.  Lately, 80% AR-15 lowers have become popular with folks who have some machining skills. These are what the name says: they're mil-spec AR-15 lowers that are 80% finished; you complete the final machining steps yourself.  Nothing like the satisfaction of building your very own personalized rifle from almost-scratch, and we sell the milling jig, too.
If you enjoy shooting your Ruger Mark III or 22/45 but don't like the magazine disconnect, we have the easy fix, the Tandemkross disconnect bushing.  It replaces the factory part and will allow the mag to drop freely when you hit the button.  For Remington 700 fans – and there are a lot of us – the Bolt Lift will give you the benefit of an oversized bolt knob without actually having to send your rifle away for permanent modification.
Something else to get those juices flowing: Ammo Is Back – pretty much. The ammo situation has been tight for more than a year, but things are beginning to come back – some.  We've got IMI ammo in popular calibers like 9mm, 5.56 and 7.62 NATO.  We also have premium Gorilla ammo in .223 Remington and another AR-15 cartridge that's gaining popularity, 300 AAC Blackout.  At last – we can talk seriously about heading out to the range and doing some shooting!
We're seeing  lots of interest in our Emergency & Survival Gear products.  Everybody owes it to themselves and their families to be prepared to face any kind of emergency Mother Nature can dish out.  We've got articles by experts on the website, and our very-talented video crew is constantly making videos that show you how the products work, how to make a bug-out bag, what supplies you need – all sorts of useful stuff.  Look for what's already out there with the "Learn" part of our website, and be sure to keep checking the Brownells YouTube Channel for the latest.
We're finally heading into one of the best times of the year – warm weather, the return of the birds and flowers, leaves on the trees and every reason under the sun to get out amongst it all. Get outside with family and friends, shoot some guns, and make some really, truly great family memories!
About:
Founded in 1939, Brownells is an Iowa-based, family-owned company that supplies more than 75,000 firearms parts, accessories, reloading components, gunsmithing tools, and ammunition to armorers, gunsmiths, and shooters worldwide. In addition to their industry leading 100% lifetime guarantee on EVERY product sold, their staff of veteran Gun Techs are available to assist customers with any need – free of charge. There are no minimum order sizes or fees. To place an order, or for more information, call 800-741-0015 or or visit Brownells.com