Quality AR style rifle producer Franklin Armory announcing a quality upgrade to their upcoming AR chambered in 17 WSM.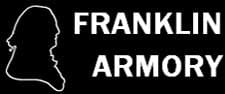 MORGAN HILL, Calif. –-(Ammoland.com)-  Franklin Armory, maker of quality AR style firearms, announced today that their F 17-L chambered in .17 Winchester Super Magnum will now include a piston system.
Franklin Armory first introduced the F 17-L as the world's first direct impingement rimfire rifle chambered in .17 WSM at SHOW 2014. The reception of the rifle was positive with a lot of interest especially from varmint hunters and individuals from California where this firearm would negate the need of a "Bullet Button."
"While the piston system does add cost to the project, the tradeoff is very little powder residue in the action and substantially longer periods between cleanings. Given that some varmint hunters might blow through 500 rounds in an afternoon, we believe that our targeted audience will appreciate the upgrade," said Jay Jacobson, President of Franklin Armory.
Franklin Armory's craftsmanship sets it apart from other companies who mass produce their firearms.
"First off, no one else is building an AR15 in 17 WSM. Second, we went from having the first gas powered rimfire in the world, to now having the world's first gas-piston rimfire rifle. Our design team has produced a lot of unique weapons over the years, and this would be a prime example of our team's creative prowess and nimble responsiveness," said Jay Jacobson, President of Franklin Armory.
To learn more about Franklin Armory, please visit www.franklinarmory.com
About Franklin Armory
Franklin Armory is part of a California corporation that has been in operation for over 20 years. We specialize in producing legal firearms for restrictive jurisdictions such as California. We also build full feature firearms for "free" states. Either way, every firearm produced at our facility in Morgan Hill, California is made with 100% American made parts & materials.