A Historically Significant, One-of-a-Kind Custom Knife Crafted by Acclaimed Artisans Incorporating Wood from a Tree Planted by George Washington and Steel from a .50 Barrett Used in Iraq.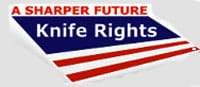 Gilbert, AZ –-(Ammoland.com)- Knife Rights has donated Freedom's Steel III – Shall Not Be Infringed, an extraordinary custom knife collaboration, to the National Rifle Association's Institute for Legislative Action (NRA-ILA).
In appreciation for their support of Knife Rights' legislative efforts in fighting the Second Front in Defense of the Second Amendment.
Freedom's Steel III was conceived of, and sponsored by, Knife Rights expressly to benefit NRA-ILA. This is the third year in a row that Knife Rights has donated a Freedom's Steel knife, raising $33,500 the first two years.
Freedom's Steel III – Shall Not Be Infringed will be a featured auction item at the NRA-ILA Dinner and Auction to be held at the NRA Annual Meeting in Indianapolis, Indiana, the evening of April 25, 2014. Proceeds from the sale of Freedom's Steel III will support NRA-ILA efforts to defend the Second Amendment.
Information on the NRA-ILA Dinner and Auction can be found at: http://www.nraam.org/special-events/nra-ila-dinner-and-auction.aspx
"Knife Rights and the NRA have a common interest in protecting our civil rights and specifically the right to own and use tools appropriate for self-defense. At a time when our Second Amendments rights are under unprecedented assault, we are proud to assist NRA in protecting these rights." said Knife Rights Chairman and Founder Doug Ritter. "We are sincerely grateful for the support provided to us by NRA-ILA as we fight the Second Front in Defense of the Second Amendment."

"Since 1871, the NRA has fought to defend the rights of law-abiding Americans. We are truly grateful for the support of our friends at Knife Rights and their continued contributions to our ongoing efforts to preserve our freedom," said Chris W. Cox, Executive Director of the NRA's Institute for Legislative Action."

Ritter noted, "we are indebted to these incredibly talented artisans and companies who contribute their valuable time, talents and materials to support Knife Rights by creating this extraordinary knife." Each craftsman's efforts and every component of Freedom's Steel III was donated to Knife Rights to support its efforts to defend and enhance our right to own and carry knives as tools used daily by millions of Americans and at times wielded as an "arm" in self-defense.

This one-of-a-kind 16-inch 416-layer Damascus American Bowie was forged by National Living Treasure and American Bladesmith Society Master Bladesmith Jerry Fisk. Fisk forged the Damascus pattern to show the sun's rays radiating out to the blade's cutting edge, representing his prayer that with Knife Rights' and the NRA's help, "may the sun always rise over a free America."
The engraved guard and pommel, as well as the spacer, were forged from the barrel of a Barrett .50 caliber sniper rifle used in Iraq and donated by Barrett Firearms. ABS Master Bladesmith and master engraver, Shane Taylor, accurately copied and gold inlaid the handwritten original script from the Second Amendment of the Constitution: "shall not be infringed." The embellishment engraving was inspired by Paul Revere's engraving from the time of the Revolution. Almost two feet of 24K gold wire was used in the gold inlay.
The historic wood handle was hand carved by Fisk. The wood was salvaged from the last of 13 horse chestnut trees planted by George Washington in 1788 to memorialize the 13 colonies and shade the walk between his mother's cottage and Kenmore, his sister's home in Fredericksburg, Virginia. This historic tree was felled and salvaged by Historical Woods of America in 2005. The beautiful grain of the horse chestnut wood is stabilized to last for generations.
Fisk explains that he chose to make this knife a Bowie because "the Bowie is recognized world-wide as the quintessential American knife, a recognized symbol of America. This is an early American style of Bowie which represents the fundamental American characteristics of lean strength and resilience, the basics we should get back to in running our great country."
Custom Leather Maker Kenny Rowe hand-crafted the tooled leather sheath. The sheath is one of his High Ride Crossdraws with Rowe's Pin Loc retention device. It is constructed of Herman Oak vegetable tanned leather. The hand tooled floral design matches the gold inlay in the knife. This pattern is filigreed over American alligator. The outline of the sheath and the welt are custom fit and contoured to fit this exact knife for a good snug fit.
Freedom's Steel III is presented in a custom-built black walnut display case by Brookfield Case. It features glass on four sides and the top and a document storage drawer. Etched into the glass front is a reproduction of the original script from the ratified Bill of Rights (as also used on the pommel):
…the right of the People to keep and bear Arms shall not be infringed.

Second Amendment to the U.S. Constitution, ratified December 15, 1791
Additional details on Freedom's Steel and the collaborators who created it, along with additional stunning photography, can be found at: http://www.KnifeRights.org/FreedomsSteel
Photography of Freedom's Steel courtesy of Terrill Hoffman Photography.
About Knife Rights
Knife Rights is America's grassroots knife owners organization, aggressively fighting for a Sharper Future™ for all knife owners. Knife Rights is dedicated to providing knife owners an effective voice to influence public policy. In the past four years, Knife Rights has passed pro-knife legislation in 11 states and prevented anti-knife legislation in four states. Knife Rights is also the lead plaintiff in a federal civil rights lawsuit against New York City and the New York District Attorney over their persecution of knife owners
About NRA-ILA
The Institute for Legislative Action (ILA) is the lobbying arm of the NRA. Established in 1975, ILA is committed to preserving the right of all law-abiding individuals to purchase, possess and use firearms for legitimate purposes as guaranteed by the Second Amendment to the U.S. Constitution. While NRA is a single-issue organization, ILA is involved in any issue that directly or indirectly affects firearms ownership and use. ILA is also involved in educating the public about the facts concerning the many facets of firearms ownership in America.