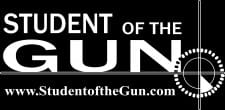 Biloxi, Mississippi — (Ammoland.com) – Student of the Gun is pleased to partner with Century International Arms, the official sponsor of the SOTG Mobile App, and FrogLube, complete weapons care systems for an American AK Giveaway contest. One lucky winner will receive a Century C39 rifle chambered in 7.62x39mm, a Red Army Ammo Range Pack, and the Frog Tube complete cleaning kit. The C39 is a hundred percent made in the USA, Kalashnikov-style rifle with a machined receiver.
The winner will be chosen on May 17, 2014, Armed Forces Day. All active subscribers to the SOTG online newsletter will be eligible. Earn bonus entries by following Student of the Gun on all social media. The winner must be a legal resident of the United States of America and eligible to possess a firearm in their state of residence. All Federal, State, and Local laws apply.
Subscribe to the SOTG digital newsletter and be entered to win: a Century Arms C39 American Made AK, 180 rounds of ammo, and a FrogLube FrogTube, by simply CLICKING HERE. Every person who signs up will receive the "One Box Workout" Free Report. They also will have access to exclusive training videos and special discounts on training material.
---
StudentoftheGun.com is the #1 source for education, enjoyment, and enlightenment of real-world firearms delivered through: training, videos, radio, books and articles.
Being a Student of the Gun is not about being a novice or beginner. Student of the Gun represents a lifelong journey of education, enlightenment and the enjoyment of firearms. Each episode will introduce the viewer to new and interesting firearms as well as the latest gear to go with them. You are a beginner once, but you should be a student for life.
We will travel throughout the United States, seeking the advice and expertise of the best firearms trainers available. Sometimes deadly serious, sometimes just for fun, Student of the Gun will always strive to educate and entertain our viewers while offering them an insiders' look at the world of firearms.
Student of the Gun is proud to bring you exclusive gun/gear giveaways and complimentary training. To show our appreciation for our loyal subscribers, we are constantly choosing winners. To view our current giveaway(s) and enter to win, click HERE. We couldn't bring you these exclusive giveaways without the support of our fantastic sponsors. Be sure to check them out and let them know you appreciate them as much as Student of the Gun does!
Watch the TV show weekly (7 p.m. EST) on DISH Network Channel 266 (HUNT Channel) , view 24/7 HD on-demand, read articles, and listen to SOTG Radio HERE. You can download the mobile app here>>>SOTG Mobile App
About the Host
Paul G. Markel has worn many hats during his lifetime. He has been a United States Marine, police officer, professional bodyguard, and small arms and tactics instructor. Markel has been writing professionally for law enforcement and firearms periodicals for nearly 20 years, and has hundreds of articles in print. A regular guest on nationally syndicated radio talk shows, Markel is a subject matter expert in firearms training and use of force.
Markel has been teaching safe and effective firearms handling to students, young and old, for decades and has also worked actively with 4H Shooting Sports programs. Markel holds numerous instructor certifications in multiple disciplines; nonetheless, he is, and will remain a dedicated Student of the Gun.
Follow Student of the Gun & Join the Convo: #studentofthegun