Both past and upcoming events are 2A FlashMob Approved, anyone attending will automatically qualify for their own FREE 2A Mob Patch.
Illinois –-(Ammoland.com)- The ISRA would like to send out an ATTABOY to all the lawful gun owners that attended so called "town halls" hosted by anti-gunners this week.
Thanks to the large gun-owner turnout, the gun grabbers backed down from overtly attacking your rights – choosing rather to discuss safer, and more mundane topics such as the pension problem and the state's economic woes.
By showing up in droves at these meetings, gun owners are letting the gun grabbers know that we will not stand idly by as they try to destroy our rights. We will meet them at every turn and challenge their every move.
Thanks once again for all your support.
OUR WORK IS NOT DONE – ANOTHER GUN CONTROL MEETING COMING UP THIS WEEK  TOP NATIONAL GUN CONTROLLERS TO HOLD RECRUITMENT MEETING IN DEERFIELD  YOU MUST ATTEND AND LET YOUR VOICES BE HEARD
Gun control extremists from national and local organizations will be holding a recruitment meeting in Deerfield, Illinois to drum up support for efforts to sway the 2014 elections against your right to keep and bear arms.
HERE IS WHO WILL BE IN ATTENDANCE:
1. U.S. Rep. Brad Schneider will represent ERIC HOLDER at the meeting and explain how the OBAMA administration plans to institute a national REGISTRATION scheme patterned after Connecticut's massive gun grab of earlier this year. Schneider will explain how OBAMA will use the last two years of his administration to step up efforts to tax, license, ban and confiscate your firearms.

2. Illinois State Representative Scott Drury will be on hand to discuss his aggressive efforts to harass law-abiding firearm owners. Drury' latest anti-gun stunt was his introduction of a bill into the Illinois House that would ban firearms from VFW and American Legion Halls. Apparently Drury believes that the best way to say, "thanks," to our brave veterans is to take their 2nd Amendment rights away from them.

3. MICHAEL BLOOMBERG will be represented by the shrill voices of "Moms Demand Action." The Moms will explain coordinated efforts to funnel BLOOMBERG MONEY into Illinois to help replace pro-gun, pro-freedom legislators with Bloomberg's anti-gun lap dogs.
HERE'S WHAT YOU NEED TO DO TO STOP BLOOMBERG AND HOLDER IN THEIR TRACKS:
1. Plan to be at the anti-gun recruitment meeting:
a. Tuesday, April 22, 2014 at 7:00 PM. Please plan to be there by 6:15 to make sure that you get a seat. The anti-gunners always try to prevent gun owners from attending these meetings by claiming the location is full. Be sure to wear NRA or IGOLD t-shirts and hats.
b. Location: Deerfield Village Hall, 850 Waukegan Road, Deerfield. This is a public building. As a law-abiding taxpayer, you cannot be denied entry into the building just because you believe in the 2ndAmendment.
2. Please pass this Alert along to your friends and family.
3. Please post this alert on any and all Internet blogs or bulletin boards to which you belong.
REMEMBER – ONLY YOU CAN PRESERVE AND PROTECT YOUR GUN RIGHTS.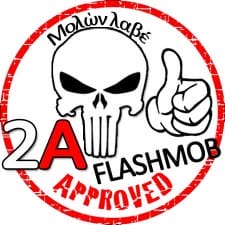 About:
The ISRA is the state's leading advocate of safe, lawful and responsible firearms ownership. Since 1903, the ISRA has represented the interests of over 1.5 million law-abiding Illinois firearm owners Visit: www.isra.org
About 2A Flashmob: 
In an effort to motivate gun owners and Second Amendment Supporters to show up in person at important events and rallies AmmoLand Shooting Sports News is giving away FREE 2A Flashmob Patches to anyone who attends a protest, rally, open carry event, committee hearing at your state capital or a Moveon.org counter protest. (You may already be eligible)
Spread the word, get out, get active!