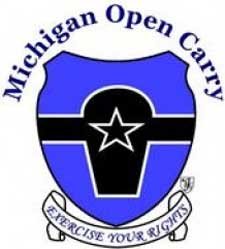 Michigan –-(Ammoland.com)- Once again we have good news to share on the two brandishing definition bills that we have been supporting.
Today, HB 5091 Johnson (R-Clare) and HB 5092 Dillon (D-Grand Rapids) were unanimously recommend out of the Senate Judiciary Committee and will now head to the Senate floor for final approval before being sent to Governor Snyder.
These bills will close a gap left by the lack of a definition for brandishing in our statutes – A gap that has been exploited by some of the few who still refuse to acknowledge that openly carrying a firearm is legal in Michigan.
While such exploitations are generally unsuccessful in court, they still cause significant financial and emotional burdens for the accused, which have caused many in our community to think twice about lawfully openly carrying a firearm in public. Michigan Open Carry feels that you should not have to think twice about exercising your rights.
At the same time, by providing a definition that is clear and easy to find, we not only help those trying to follow our laws, we also help those tasked with enforcing our laws. Providing such a definition will allow members our law-enforcement community to enforce our laws with confidence and without having to second guess their actions.
We are now working to get these two bills on the Senate's agenda for April 29 while we are all there in Lansing for the Second Amendment March. Stay tuned.
Tom Lambert
Assistant Legislative Director
Michigan Open Carry, Inc.
[email protected]
Michigan Open Carry, Inc is a Not-For-Profit organization that depends on our dues paying members to continue our operation.  We are an all-volunteer organization.  As such, no one is paid a salary and very few of the personal expenses of our officers are reimbursed.  Won't you consider joining us or renewing as a dues paying member today?  If you need technical help with the process, please email [email protected]