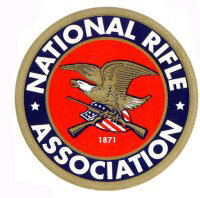 COLUMBIA, Mo. –-(Ammoland.com)-  Larry Potterfield, founder and CEO of MidwayUSA, Inc., has donated $65,000 to the 2014 MidwayUSA & NRA Bianchi Cup, held May 21 – 24 2014 in Columbia, Missouri.
Their contribution marks the company's sixth consecutive year as title sponsor of the richest and most prestigious pistol tournament in the world.
"Working together with our industry partners ensures the continued growth and advancement of NRA's competitive shooting programs," said Dennis Willing, Director of NRA Competitive Shooting.

"MidwayUSA, an industry leader, continues to be a major benefactor to our sport."
Founded in 1979 by former police officer and holster maker John Bianchi, the 192-shot MidwayUSA & NRA Bianchi Cup attracts the world's best pistols shooters. This year's championship will feature competitors from Australia, Canada, Germany, Italy, Japan, New Zealand and the United States.
Competition categories are determined by age, gender, and the number of modifications a shooter makes to their pistol to increase speed and accuracy. New competitors are eligible for a special award, as MidwayUSA has pledged $15,000 of their donation to the top three men, women, and junior shooters making their first appearance at the cup.
"Brenda and I are strong supporters of the shooting sports, and we are delighted to encourage new and existing competitive shooters to compete in the Bianchi Cup," said MidwayUSA Founder and CEO Larry Potterfield. "MidwayUSA is pleased to be a key supporter of the most exciting pistol competition in the world, right here in our home town of Columbia, Missouri."
Visit bianchicup.nra.org for more information on the 2014 MidwayUSA & NRA Bianchi Cup or contact Tom Hughes at 703-267-1451 or [email protected]
About MidwayUSA
Both country kids from Missouri, Larry and Brenda Potterfield turned their passion for shooting sports into a career by opening a small gun shop in 1977 that would eventually become MidwayUSA (www.midwayusa.com). They instilled family values like honesty, integrity and respect for others into the business, and strive to maintain this culture with each Employee added to their growing team. For over 36 years, MidwayUSA has offered JUST ABOUT EVERYTHING for Shooting, Reloading, Gunsmithing and Hunting with an unyielding focus on Customer Satisfaction.
For more information on MidwayUSA, visit their website (www.midwayusa.com), find them on Facebook (www.facebook.com/OfficialMidwayUSA), or follow them on Twitter (http://twitter.com/midwayusa).
About the National Rifle Association
Established in 1871, the National Rifle Association is America's oldest civil rights and sportsmen's group. Five million members strong, NRA continues its mission to uphold Second Amendment rights and is the leader in firearm education and training for law-abiding gun owners, law enforcement and the military. Visit http://nra.org.