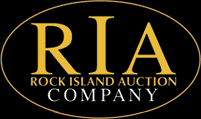 Rock Island, IL –-(Ammoland.com)- This is a friendly reminder that the season premiere of "NRA Gun Gurus" will be today at 7:00 p.m. ET/PT on the Outdoor Channel.
Here at RIAC we couldn't be more excited to show off firearms that find their way to our facility. Click below to view the trailer for this show that's right up the alley of every gun collector, treasure seeker, or firearms investor.
Also, after you've watched the show RIAC would greatly appreciate you leaving your positive feedback for the Outdoor Channel. They make it really easy! Just click this link and tell them what you think (after you've watched the show, of course).
Each episode will feature an outstanding firearm auctioned by Rock Island Auction Company as well as many guns from everyday collectors. Appearing in these segments will be RIAC Owner Pat Hogan and his son, Director of Auction Services Kevin Hogan.
"It's an honor to be working so closely with the NRA and the National Firearms Museum," said the senior Hogan. "It's easy to feel an immediate kinship with these two organizations who share our respect and intense fascination for beautiful and historic firearms."
National Firearms Museum Director Jim Supica and Senior Curator Phil Schreier, with their 50 years of combined firearms expertise, will evaluate firearms brought to them at show from around the country and discuss the guns' history, significance, and authenticity or lack thereof. Collectors appearing on the show find out if their treasured pieces are duds or diamonds in the rough. The duo encounters firearms from the odd to the ornate, and will reveal what makes an old gun unique and how to preserve its value.
The show will also examine historic and fascinating arms from the NRA National Sporting Arms Museum at the Bass Pro Shops in Springfield, Missouri, in segments called Museum Minute.
"The history of firearms technology and their role in world history is extraordinary," said Supica. "You never know what has been hiding in someone's firearms collection, just waiting to be discovered."
Learn more about "NRA Gun Gurus" at http://www.NRAGunGurus.com.
Regards,
Rock Island Auction Company
About:
Rock Island Auction Company has been solely owned and operated by Patrick Hogan. This company was conceived on the idea that both the sellers and buyers should be completely informed and provided a professional venue for a true auction. After working with two other auction companies, Mr. Hogan began Rock Island Auction in 1993. Rock Island Auction Company has grown to be one of the top firearms auction houses in the nation. Under Mr. Hogan's guidance the company has experienced growth each and every year; and he is the first to say it is his staff's hard work and determination that have yielded such results. Visit: www.rockislandauction.com