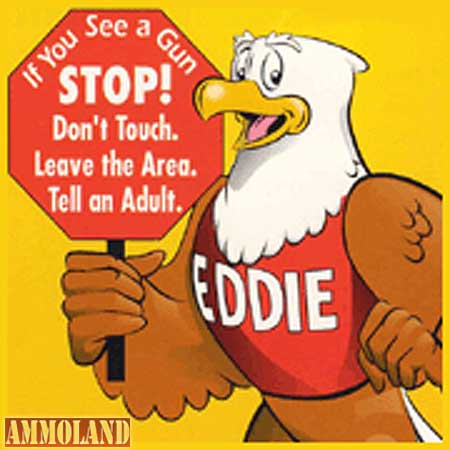 INDIANAPOLIS, IN –(Ammoland.com)- Several elementary schools in the Indianapolis area will be introduced to the lifesaving message of the National Rifle Association's Eddie Eagle GunSafe program on April 24 ahead of the 2014 NRA Annual Meetings and Exhibits.
The award-winning firearm accident prevention program teaches children in the Pre-K through the third grade to "STOP! Don't Touch. Leave the Area. Tell an Adult." if they find a firearm.
"The Boone County Sheriff's office was truly instrumental in helping us bring Eddie Eagle's lifesaving message to the local elementary schools," said Eddie Eagle National Manager Eric Lipp. "We're always happy to work with local law enforcement when it comes to teaching firearm accident prevention to children."
More than 453,000 children in Indiana and over 26 million children nationwide have learned Eddie Eagle's lifesaving message throughout the program's 26 year history. According to the National Center for Health Statistics, incidental firearm-related deaths among children in Eddie Eagle GunSafe's targeted age group have declined more than 80% since the program's launch in 1988.
Eddie Eagle GunSafe was created by past NRA President Marion P. Hammer with assistance from elementary school teachers, law enforcement officers, and child psychologists. It has been endorsed by the U.S. Department of Justice's Office of Juvenile and Delinquency Prevention and has received praise from national and community organizations, governors, and state legislatures. Funding for the program is made possible through grants awarded by The NRA Foundation.
Additionally, Eddie Eagle will be present at NRA's 143rd Annual Meetings and Exhibits, April 25-27 at the Indiana Convention Center in Indianapolis, IN.
The NRA encourages citizens nationwide to participate in heightening firearm safety awareness within their communities. Schools, law enforcement agencies, civic groups, and others interested in Eddie Eagle GunSafe can learn more at https://eddieeagle.nra.org/ or (800) 231-0752.
Granville Wells Elementary School
Perry-Worth Elementary
Thorntown Elementary School
About the National Rifle Association
Established in 1871, the National Rifle Association is America's oldest civil rights and sportsmen's group. Five million members strong, NRA continues its mission to uphold Second Amendment rights and is the leader in firearm education and training for law-abiding gun owners, law enforcement and the military.