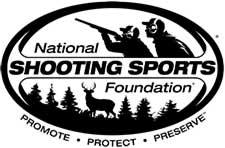 NEWTOWN, Conn –-(Ammoland.com)- The National Shooting Sports Foundation alerts potential sponsors, partners and participants that it has assumed administration of the Rimfire Challenge program—a national family-friendly, target shooting competition previously known as the Ruger Rimfire Challenge.
Watch the NSSF Rimfire Challenge preview below.
Now called the NSSF Rimfire Challenge, the program will continue using the format that has made it so popular: Providing new and novice shooters with a first taste of competition, with emphasis on fun, safety and mentoring by experienced shooters. In Rimfire Challenge matches, all levels of target shooters enjoy firing at steel targets in timed stages.
The use of .22 caliber pistols, revolvers and rifles means the Rimfire Challenge falls into the comfort zone of practically everyone's budget.
"The affordability of this program is something that participants really like and keeps them coming back," said Zach Snow, NSSF's Manager of Shooting Promotions. "Event fees are affordable as well. Altogether, the NSSF Rimfire Challenge is a winning program for participants, ranges, sponsors and partners."
NSSF Rimfire Challenge is attractive to both sponsors and partners because of the existing popularity of the program and NSSF's plans for adding many more matches across the country. Sponsors provide overall support to NSSF Rimfire Challenge, and partners support registered matches with donations of products. Sponsorships and partnerships provide many benefits to companies, including increased visibility of products to potential lifelong customers, enhanced brand loyalty and knowing that your company is supporting a program dedicated to building a positive future for the shooting sports.
Interested sponsors can learn more about levels of support for NSSF Rimfire Challenge by contacting Chris Tatulli at 203-426-1320 ext. 214, email: [email protected] Interested partners can use the online form to sign up or contact Zach Snow at [email protected] or Tim Norris at [email protected] or call 661-510-9379.
For participants, NSSF Rimfire Challenge offers categories for everyone: Open and Limited Divisions, plus Special Recognition competitions. More information on program equipment, rules, courses of fire, scheduled matches and the first NSSF Rimfire World Championship can be found at NSSF.org/Rimfire.
For host ranges, NSSF provides guidelines for match directors and incentives to obtain equipment needed to host Rimfire Challenge matches. Learn more at NSSF.org/Rimfire.
"NSSF looks forward to taking Rimfire Challenge to the next level of success with the help of our sponsors, ranges, partners and participants," said Snow. "Participating in the NSSF Rimfire Challenge is a wonderful way to experience all that the shooting sports have to offer."
About NSSF
The National Shooting Sports Foundation is the trade association for the firearms industry. Its mission is to promote, protect and preserve hunting and the shooting sports. Formed in 1961, NSSF has a membership of more than 10,000 manufacturers, distributors, firearms retailers, shooting ranges, sportsmen's organizations and publishers. For more information, log on to www.nssf.org.