Arizona –-(Ammoland.com)- For me the Remington 870 shotgun invokes fond memories of my youth as well as the rich history Remington has played in manufacturing quality firearms for sportsmen, law enforcement and military around the world.
If you ask most any sportsman what Remington produces, more than likely their response will be the Remington 870 Shotgun and 700 Series Rifle.
Their firearms can be found in homes, police cruisers and military armories, a solid testament to their 190 plus years of firearms design and manufacturing.
Brand loyal owners will enjoy the ammunition Remington manufactures in their favorite firearms for hunting and target practice. And while Remington is based in the United States their products are shipped to over 55 countries.
Two of their firearms have achieved a virtual cult like status among owners. The first is the well-known Remington 870 Pump Action Shotgun which has faithfully served on the front lines of Military and Law Enforcement communities for years. It has hunted afield for nearly a half century and has seen more than ten million manufactured.
The 700 Series Rifle that was designed in 1962 and has seen more than 5 million rifles roll off the assembly line in 40 plus calibers and over 900 SKU's. And while there are other successful Remingtons on the market, you must agree their lineage is well founded and deserved but time marches on.
Remington Versa Max Shotgun
Remington Engineers are moving rapidly into the next century with new innovations in firearms manufacturing and materials and the Remington Versa Max is that forward thinking.
The heart of the Remington Versa Max is its gas system. The VersaPort gas pistons and seven gas ports self regulates based on the length of the shell.
A short shell allows the most holes to be exposed which enables more gas to cycle the action, but when using a 3 ½" magnums all but one hole is covered because the load is powerful enough to easily cycle the action.
The gas system allows the shooter to fire any type 2¾ to 3½ shot shell and the end result is flawless operation.
This also creates a buffer effect that reduces the felt recoil down to that of a 20 gauge in some cases and since it's self-cleaning it gives you less down time, wear & tear and fewer parts.
What does the VersaPort do for you? More time hunting, less time worrying about your shotgun.
Remington's newest semi-automatic shotgun offers the sportsman a dependable shotgun for all hunting and sporting uses. The Versa Max comes to you in Remington's green hard case which protects your Versa Max while in the field and holds your owner's manual and accessories.
The case includes four Wingmaster HD (High Density) Remington choke tubes in Flooded Timber (Improved) Over Decoys (Modified) Pass Shooting (Full) and Turkey/Predator (Extra Full). Also included is a choke tube wrench, that accommodates a 3/8 ratchet drive, very handy should you need to break lose a stuck choke tube.
A stylish trigger lock that covers the entire trigger, complete with two keys. A 3/16th Allen wrench for the cylinder plugs so you can remove the gas pistons and stock. Magazine plug, which reduces the 3+1 (2¾" and 3") to 2+1 (3½").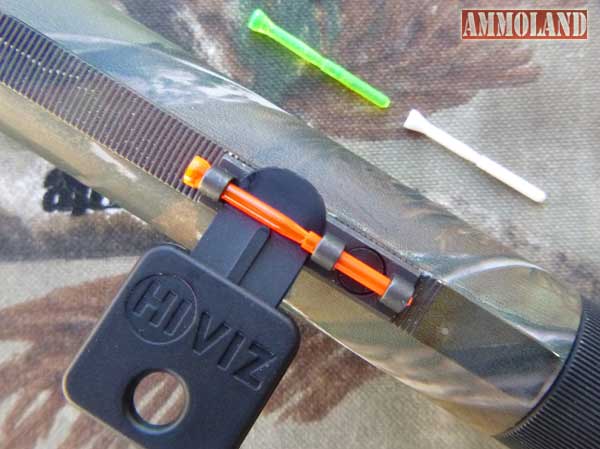 A HI-VIZ Sight key that slides between the first and second ring under the lite pipe, which allows you to remove it and change the color to personalize the shotgun to your taste. It comes with a green sight pipe installed (of course) and you get a white and red sight pipe as well. Three spacers to change your LOP (Length-of-Pull) of your stock from 14 ¼ to 15 ¼ inches and three sets of screws that measure 1¾" 2" and 2¼" so you have the correct length screw for the LOP spacer used. Two stock cast plates to adjust Heel drop and Cast to fit your shooting style.
Heel drop can be adjusted from 2 to 2.5 inches and cast adjustment can be made either left or right a quarter of an inch.

The Realtree HD AP Camo pattern was applied spot on with no visible wrinkles as you would expect from Remington and the fit and finish on all the parts was tight even after shooting 500+ shells from 2¾" field loads to 3½" turkey loads. As a general rule, I don't clean my test guns until I'm finished testing, to see if I experience any firearm related stoppages, I did not. The four choke tubes screwed in and out very easily, even after shooting many rounds and only using the supplied choke tube wrench or by hand. The barrels vented rib has a small bead used for aligning on the sight pipe for accurate shots. I like this feature on shotguns I have found it helps my accuracy with birds of all types including the clay kind.
At about 8.2 lbs., the well balanced Versa Max is easy to handle, shoulder and acquire targets with the factory fiber optics. I have always liked the switch from the standard bead sight to fiber optics for clarity and their natural radiance in the field.
The Versa Max utilizes a synthetic stock and forend with grip panels strategically placed to aid in a firm hold in all weather conditions. The receiver is drilled and tapped with four screws for installation of a Weaver style or Picatinny rail to employ your favorite sights.
The trigger guard is large enough to easily handle gloved hands and the safety is enlarged to transition from safe to fire by feel. There are also redundant safety measures built into the Versa Max that require no input from the user as long as the shotgun is maintained in good working order.
The trigger broke between seven and eight lbs. and gives a firm but smooth release. Right next to the trigger guard is the cartridge release.
When activated it will release a shell from the magazine without firing the gun or allow you to lock the bolt open manually. You may also pull the bolt handle back and eject the unfired shell from the chamber and replace it with another type. Just drop in the new shell, push the bolt release and load the shell into the chamber.
This is useful feature if you're hunting multiple seasons on different game that require different shot sizes or the use of slugs. The bolt release is located by the bolt handle, pushing it will release the bolt from its locked open position.
Forward of the foregrip is the magazine cap which has a sling swivel to match the one located on the stock. Turning it counterclockwise will allow you to remove the magazine spring retainer and plug. (The device which limits the amount of shells the shotgun magazine can hold) Simply push down 1/2" and turn clockwise to remove it, exercise caution as the spring is under tension. The amount of field stripping you do is in accordance with your skill and confidence with firearms. The simplest methods is the easiest, just remove and clean the barrel, but If you choose to go further all the advanced procedures for further disassembly are covered in the supplied operator's manual.
I will go over the basic field stripping starting with placing the shotgun on safe and unloading all ammunition from the magazine and chamber and standing it upright on the recoil pad.
The bolt should be in the locked back position after unloading then remove the magazine cap. Remove the foregrip by removing it upward and off, then remove the barrel by pulling it upwards as well. You may then remove the gas plugs and pistons using the supplied Allen wrench. This allows you to clean the Versa Max, but if a more thorough cleaning is desired you may remove the bolt handle and bolt and disassemble it along with removing the trigger assembly for cleaning. No other disassembly is authorized beyond this point except by the factory or authorized repair facility.
Shooting the Versa Max is fun and with field loads; recoil is soft and easy for anyone to handle. A round of sporting clays with a couple friends sold the Versa Max on a friend's younger son who shot a better score with the Versa Max than he did with his own shotgun. Did I mention he fell in love with it and wanted his dad to buy him one of his own?
I also wanted to use a revolutionary optical sight a good friend recommended to me that's fairly new to the market. Red Ring is an optical sight designed especially for shotguns and is installed on any shotgun rib that measures between 5 and 11.5 mm. Best of all when you install it, there is no calibration or sighting in, just go out and shoot, it's that simple.
What it does is help you become a better shooter by eliminating some of the basic problems associated with shotgunning. The sight is parallax free.
(PARALLAX means the difference between the view of an object as seen through the picture-taking lens of a camera and the view as seen through a separate viewfinder.)
The Red Ring automatically adjusts the intensity of the ring according to the available light, they call it Spot-Metering. It uses a built in range finder to let you know if you should take the shot thus helping you take more game or hit more clays. The sight sits low on the rib and adds very little weight so balance is not affected and if it becomes dirty in the field or range it can be washed off with fresh water.
It comes ready to install out of the box and comes complete with all the mounting hardware which consists of four spacers, two clamps and one Allen wrench. It took me all of five minutes to install as I had to change clamps and they recommend re-tightening the clamps after about 25 rounds, so you don't donate it to someone else shooting after you. Turning the sight off and on is simple as two buttons and after registration you can USB interface with your PC for more advanced settings. Even the battery is easy to change and MSRP is $899.00 for the sight.
Ammunition Brand:Gauge:    Length:    Velocity:Oz. Shot:    Shot:Hits:
Remington Nitro Turkey    

12 Ga.

           

3"

         

1210      

1

7/8

 

 

 

 

5           

5

H

ornady Heavy Mag Turkey  

12 Ga.

   

3

"

            1300     

1 ½

        

5           

7

Federal Premium Turkey      

12 Ga.

          

3"

           1300    

1 ¾

        

5         

1

Wi

nchester Supreme Turkey  

12 Ga.

   

3"

             1300   

1 ¾

        

5            

0

Hevi

-Shot Magnum Blend      

12 Ga.

         

3 ½

       

1200   

2 ¼

     

5

,6,7      

21

Kent Ultimate

Diamond Shot  

12 Ga.

     

3 ½

       1200   

2 ¼

        

5            

8

Remington Nitro Turkey            

12 Ga.

     

3 ½

       1300    

2

            

5            

11
All factory turkey loads were fired from the Remington Versa Max with the Wingmaster HD Extra Full Turkey choke at 30 yards. Number 5 shot was used to test consistency among all the loads for purposes of pattern testing. All factory ammunition was fired from a hunting position and test results reflect this Versa Max, other Versa Max shotguns will pattern differently, so you must conduct your own pattern testing before hunting.
From mild to wild Remington has 7 models of the Versa Max that will fit your style starting with the Realtree HD AP Camo, Waterfowl, Synthetic, Sportsman, Tactical and the Zombie Gargoyle Green or Zombie Pink Explosion, the last two are based on the tactical model. The synthetic model is a universal black Versa Max, while the Sportsman offers the consumer a cheaper alternative eliminating or changing six features making its MSRP $1,025.00. Then into the Tactical Versa Max with its high performance features like a Picatinny rail, forward barrel-clamp side rails and an extended 8+1 magazine and IC and Tactical Extended Choke Tube. For the coming Zombie Apocalypse, Remington gives you your choice of Green or Pink in the Tactical model for laying waste to any walking dead that venture into range.
Now don't let the Realtree HD pattern fool you because the Remington Versa Max can wear many hats. I haven't run into too many people who tell me they have so much money they can buy a different shotgun for each season. Some appropriate camouflage tape, duck or goose loads and the changing of a choke tube and you're ready for the marshes because the Realtree pattern is only the outside of the shotgun. But if you are a die-hard duck, goose or turkey hunter, then pick the shotgun or pattern that suits your passion. If you plan on hunting many different types of game a black Versa Max may be in order, but however you look at it you will be using one of Remington's best built shotguns that will give you many years of service and will most certainly be the envy of your son or daughter.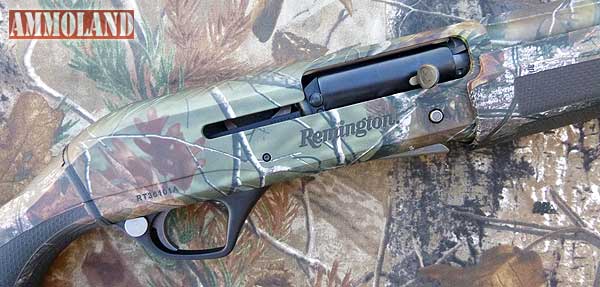 I would highly recommend the Remington Versa Max to anyone who enjoys a quality auto-loading shotgun, if I had one in my youth, there would be a lot less birds in this world. The Versa Max proves that no matter how far into the future we get, advancements in materials and technology CAN teach an old dog new tricks and shotgun technology has advanced to great heights. So the next time you're out and about at your local gun shop, take a look at the Remington Versa Max and see if it's right for you. Or maybe you know someone that owns one and they will let you hunt with it, either way you will not come home without birds because the shotgun failed to uphold its end of the deal.
Model: Versa Max Realtree
Order Number: 81054
Status: Available
Gauge: 12
Capacity: 3+1 (2¾" & 3″) : 2+1 (3½")
Barrel Length: 26"
Chokes: 4 Wingmaster HD (High Density)
Chamber: 3½" 12 gauge
Extractor/Ejector: Spring Loaded Ejector
Overall Length: 47 15/16
Weight unloaded: 8.2 lbs.
Weight with ammo: 3 – 2¾" thru 3 – 3½" about 8.6 lbs.
Stock: Black Rubber Over molded Grip Panels (Stock and Fore-End)
Drop at Comb: 1½" (Adjustable)
Drop at Heel: 2 7/16″ (Adjustable)
Length of Pull (LOP): 14¼ inches (Adjustable)
Action: Auto-loading
Barrel Type: 4140 Hammer Forged Steel, With Nickel Plated Bore
Receiver Finish: Realtree AP-HD Camo Mil Spec Hard Anodized (MIL-A-8625F)
Front Sights: HI-VIZ Interchangeable
Rib: Tapered Target Style (Taper 10mm – 7mm)
Warranty: The Versa Max Two Year Warranty Platinum Service Plan
Remington HQ: Remington Arms Co., LLC 870 Remington Drive P.O. Box 700 Madison, NC 27025-0700 Canadian Consumer Services/Parts & Service: 1-866-662-4869 Phone: 1-800-243-9700 Fax: 1-336-548-7801 Email:
[email protected]
Sources for Products Used in this review:
About Norman Gray:
Norman Gray has been involved in the shooting sports for well over 30 years. He has served in both active duty and reserve component of the United States Army as an Infantryman and was honorably discharged at the end of his service. Moving to Arizona, he began assisting his long time friend and mentor Bob Shell, an accomplished writer and author in his own right. Norman is freelance contributor with Handguns Magazine, Canadian Firearms Journal and Manzano Valley Outdoors. He is also a member of (POMA) The Professional Outdoor Media Association, the (NSSF) National Shooting Sports Foundation and a Life Member of the (NRA) National Rifle Association. Visit: https://www.unleaded-ink.blogspot.com/