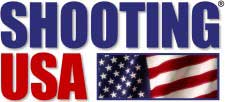 USA – -(Ammoland.com)-  Shooting USA – The SHOT Show One Hour Special.
John, Mike and I are running 12 miles of aisles in the Sands Convention Center in Las Vegas, with 60,000 Gun Dealers and Manufacturers. It's your first look at the new guns and gear that will be making news the rest of this year. Set your DVR. We have a lot to show you in non-stop new product presentations.
Shooting USA's Impossible Shots – Shield Protection
Jerry Miculek has a new M&P Shield, fresh from the box, and ready to try some Impossible Shots with the gun designed for concealed carry and personal protection.  Plus, Compound Bow expert, Randy Oitker tries a Bob Munden coin shot, to honor Bob's reputation, and risk his own, if he can't pull off the challenge.
AIR TIMES BY TIME ZONE
The Shooting USA Hour Wednesdays:
Eastern Time: 3:00 PM, 9:00 PM, 12:00 Midnight

Central Time: 2:00 PM, 8:00 PM, 11:00 PM

Mountain Time: 1:00 PM, 7:00 PM, 10:00 PM

Pacific Time: Noon, 6:00 PM, 9:00 PM
Shooting USA is listed as a one hour show in your cable menu.
Shooting USA's Impossible Shots – New Times Wednesday: 
Eastern Time:  2:00 PM, 5:30 PM, 10:30 PM

Central Time: 1:00 PM, 4:30 PM, 9:30 PM

Mountain Time: Noon, 3:30 PM, 8:30 PM

Pacific Time: 11:00 AM, 2:30 PM, 7:30 PM
Writing with a Tan:
You'll see more than just John's tan in the coming weeks from his trip to sunny California. For now, it's writing the stories that will make your jaw drop. Look for Pro Tips from Taran Butler that will change the way you set up your rifle in competition. Plus, how to shoot three seconds from the hip at ten yards – in 6-inch heels! And, John gives us a peek at "blanking guns" safely for the silver screen, inside the largest Hollywood prop house at ISS Weapons.
Are You Connected?
Shooting USA's Impossible Shots is now on Twitter! Mike Irvine shows you a modern-day Annie Oakley this week, only he's shooting backward while sighting the target with a mirror. @SUSAImpossShots
And, be sure to "like" the Shooting USA Show Page on Facebook:
https://www.facebook.com/JimScoutten.ShootingUSA
Jim Defending the 2nd by Example in the 21st Year
[email protected]