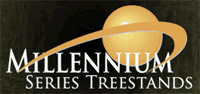 Pearl, Mississippi –-(Ammoland.com)-  Outdoor Distributors, distributors of Millennium, Millennium Marine, OL'MAN and The Claw, is pleased to welcome Steve Sivils as national sales manager.
Outdoor Distributors Ownership said, "We are excited to have Steve Sivils as part of our team. His extensive experience in sales and distribution coupled with his involvement and influence in the hunting industry make him a tremendous asset to both our company and customers."
Sivils has more than 25 years of sales/sales management experience. He spent the last 13 years with a large wholesale distribution company as both a sales manager and a general manager. He's worked with many top-tier manufacturers, including some of those currently serving the hunting industry.
Sivils resides in Brandon, Miss., with his wife, Audrey, and children Josh, Zach and Paige. He is an avid outdoorsman who enjoys hunting deer, waterfowl and turkey. He also enjoys golfing and fishing.
"I have hunted from Ol'Man and Millennium treestands for many years," Sivils said.
Outdoor Distributors, located in Pearl, Miss., is the industry leader in sales of quality-made and dependable treestands. When hunters think of reliability and all-day comfort, they think of Millennium. New for this year is the redesign of the M-100 lock-on that has been on the market for 12 years. The "New" version has the same reliability and all-day comfort as the original, but now boasts a 20% lighter weight. In 2012, Outdoor Distributors began selling the Ol Man Treestand line, which included the new Drone climbing stand with the patented Hex Drive Technology – a self-leveling climbing stand that is far superior to any attempts in the past. The patented Hex Drive Technology lets you make adjustments to the angles of both the standing and sitting platform with ease – giving you the most comfortable, safest treestand for your best shot. The Drone is the single best improvement made to climbing treestands since the invention of the original Ol'Man climbing stand years ago.
For more information, check out http://www.millenniumstands.com/ and http://www.olmanoutdoors.com.