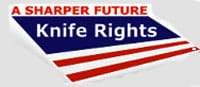 Gilbert, AZ –-(Ammoland.com)- Tennessee Governor Bill Haslam has signed SB1771, Knife Rights' bill repealing the state's antiquated ban on switchblade (automatic) knives and possession of knives over four inches in length "with intent to go armed." A vague law subject to abusive interpretation. As of July 1, 2014, there are no longer any per se illegal knives in Tennessee.
Last year Knife Rights passed Knife Law Preemption in Tennessee ensuring that no local jurisdiction can have regulations more restrictive than state law. This means that existing restrictions that banned automatic knives or limited blade length in some cities are now rendered null and void and they cannot pass any new laws banning certain knives.
WARNING: This new law does not go into effect until July 1, 2014. Violations of existing law banning switchblades (automatic) knives and carry of knives over four inches in length "with intent to go armed" can still be prosecuted until that date.
Tennessee is the 7th state in which Knife Rights has repealed a ban on switchblades and other knives. This makes 17 legislative victories by Knife Rights in just over four years, including defeating four anti-knife bills. Knife Rights has passed 13 pro-knife bills in 11 states. Knife Rights is rewriting knife law in America!
Thanks to all who called or emailed in support of this effort. Your calls and emails were critical to passage of this bill. Knife Rights would also like to thank our sponsors, Senator Mike Bell and Representative Vance Dennis, for their hard work over two years reforming knife law in Tennessee.
Knife Rights would like to recognize Smoky Mountain Knife Works and Taylor Brands whose generous support helped Knife Rights create a Sharper Future™ for their fellow Tennesseans.
Please support Knife Rights with a Donation in the 2014 Ultimate Steel Knives, Guns & More Spectacular. You could WIN YOUR CHOICE from OVER $150,000 in prizes!
About:
Knife Rights (www.KnifeRights.org) is America's Grassroots Knife Owners Organization, working towards a Sharper Future for all knife owners. Knife Rights is dedicated to providing knife owners an effective voice in public policy. Become a Knife Rights member and make a contribution to support the fight for your knife rights. Visit www.kniferights.org