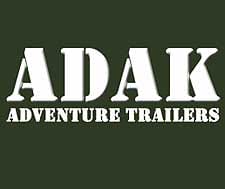 St. Augustine, FL--(Ammoland.com)- ADAK Adventure Trailers are leaders in the adventure trailer industry.
The company's dedication and experience in manufacturing recreation vehicles allows them to set standards and re-invent rugged shelters for travelers who choose to take a different path.
The ADAK Adventure Trailer is a fully featured, rugged recreation vehicle with a luxury interior built for overlanders and outdoor enthusiasts. These adventure trailers are designed to endure the toughest elements from Mother Nature and road conditions from their tires to the roof. The ADAK trailer rolls on large truck tires, increasing the overall clearance of the shelter and also improving grip in all types of terrain.
This trailer is equipped with a full size spare, ensuring your final destination is reached. A custom torsion bar and suspension is built into the frame to provide absolute ground clearance. The ADAK trailer is designed with a durable aluminum chassis that will not rust and is bonded to a rugged 1 ½ laminated honeycomb floor creating a heavy-duty foundation for the shelter. The walls and roof are also built with 1 ½ FRP laminated honeycomb and are bonded together as a one-piece construction, making the trailer leak resistant. Double pane tinted windows are installed on the ADAK for improved climate control and privacy for its' residents.
The plumbing, wiring, and every aspect of the shelter are designed to be dependable to withstand the rugged terrain.
The ADAK's interior is engineered to maximize accommodations with multiple size compartments, two sofas that convert into beds. The settee also converts into sleeping quarters with a bed and closed curtains for privacy. The ADAK is furnished with a kitchen that houses a refrigerator and a microwave, as well as a bathroom with a shower and toilet. Outside of the ADAK are additional multiple-sized compartments as well as a galley located on the back of the trailer that offers another refrigerator, sink and an organized cooking area. Twin bottle propane tanks provide plenty of cooking and heating power for most expeditions. There is a 43-gallon tank that holds fresh drinking water and a 35.8-gallon grey water tank for cleaning and hygiene use. All wastewater goes to a cassette blackwater system that is easy to empty when there is not a dump station for miles.
The ADAK also equipped with a generator, stored in its own location, for easy transport and setup.
This trailer is outfitted with a 1000-watt inverter and has a 30-amp main circuit, supplying enough power to exceed the energy requirements for most appliances. The safety features of this trailer are DOT approved LED lighting, a class 4, 21,000lb coupler, smoke, LP, CO alarms and a fire extinguisher, which are pre-inspected before installation.
About ADAK Adventure Trailers: ADAK Adventure Trailer Company builds rugged, dependable adventure trailers for the avid outdoorsmen. These trailers are equipped with a custom aluminum chassis that allows it to have the best ground clearance the industry has to offer. ADAK Trailers are built in America and constructed only from quality material. For more information about ADAK Adventure Trailers, please contact: ADAK Adventure Trailers 404 South Riberia St. St. Augustine, FL 82084, Ph: 305.970.9299, Email:[email protected] and visit their website at www.adaktrailers.com.