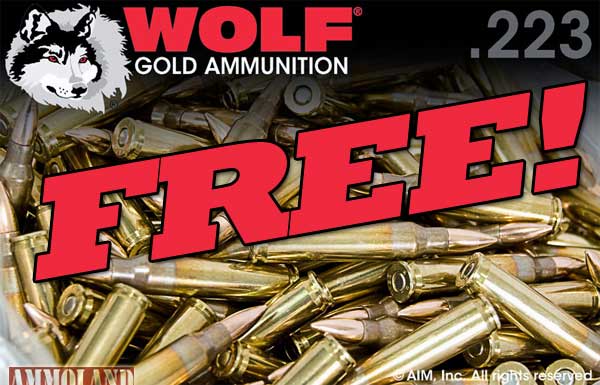 Manasquan, NJ –-(Ammoland.com)- Only read this if you need free ammo!
AmmoLand Shooting Sports News, the webs leading gun sports news wire, and Aim Surplus, a leading supplier in the shooting sports industry of guns and ammunition for nearly 20 years, have joined forces to give one lucky participant a 1000 rounds of WOLF GOLD .223 55grn FMJ ammunition,  for FREE!
WOLF GOLD Performance Ammunition brand .223 ammunition, (https://tiny.cc/4xn1ex ) features a full copper jacketed lead core 55grn bullet, brass case and a re-loadable non-corrosive boxer primer. Packaged 20rds to a box and 1,000rds (50 boxes) to a case. This is fantastic ammo and 1000 rounds will be the prize for one luck winner!
The giveaway runs from May 15th, 2014 to June 15th, 2014 with the winner drawn on June 15th.
Everyone who signs up, or is an existing subscriber, to the AmmoLand Shooting Sports News daily & monthly emails is eligible to win. New subscribers will be added too the Aimsurplus.com special offer email list to receive future promotional offers.
Do you get our daily email? Then your already entered. Do you need to sign up? Then you can do so here:
**Some Ammunition Purchase Requirements apply: https://blog.aimsurplus.com/buy-ammo/
This Promotion has now ended.  The winner will be notified on 6/16/2014.
About Aim Surplus:
Aim Surplus has been selling ammo, firearms and accessories online since 1997. Vist them at www.aimsurplus.com
About AmmoLand.com – Shooting Sports News
Ammoland.com isthe web's leading Shooting Sports News Service for the Ammunition, Firearms, Shooting, Hunting and Conservation communities. AmmoLand has a FREE Shooting Sports News Service that is seen by 10,000′s of Ammunition, Shooting and Pro Firearms enthusiast every day. Visit them at www.AmmoLand.com