Finally, a watch as tough as you need it to be… or tougher, actually!
North Miami, FL –-(Ammoland.com)- As an avid hunter, shooter and overall outdoor enthusiast, I'm always after gear capable of handling the same relentless beating I put my body through.
When I say handle it, I don't mean simply survive a week in the woods with me, but finish with plenty of room for more – gear that lasts.
Recently, I found a product that not only survives a week in the most extreme environments, it just might outlast me! ArmourLite watches ( http://tiny.cc/xrwlfx ) , including their Isobrite line are at the top of the heap when it comes to the kind of rugged durability and heirloom quality I've searched high and low for to update my increasingly weathered gear cache. Sure, I said heirloom, but in the context of also being the perfect fit for my tactical and personal defense training, most extreme hunts, as many obstacle courses as I may decide to run someday (or not), while also being good looking enough to wear with my finest duds.
Admittedly, I do like fine watches. I've worn many; however, I'm no jewelry fanatic. Flash, bling, whatever you call it, is definitely not my game.
The watches I've used in the past were exactly what ArmourLite watches epitomize – the kind of rugged watches you see our boot-on-the-ground troops, tactical experts, first responders and specialized operators bearing. More than that, I love watches I can read at night.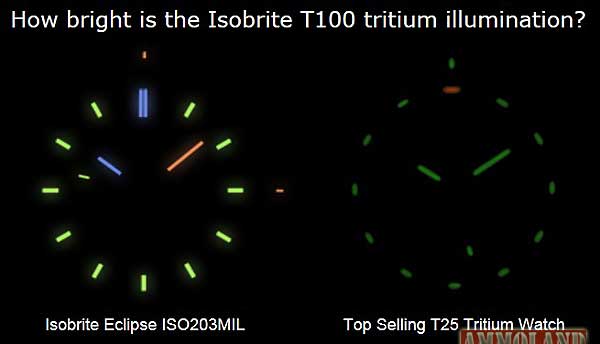 Counted as the most durable watch I've ever seen or used, ArmourLite watches, especially the Isobrite line is the brightest I've ever seen – and without a light! That's right! ArmourLite uses vibrant T25 tritium to illuminate the watch-face markers, watch hands and even bezel markers. Not enough? While T25 is apparently a tritium watch standard, the Isobrite watch, more my speed, is rated at T100! The only watch I've encountered with this brightness – four times brighter than standard watches! I have NO problem seeing what time it is, no matter the conditions around me.
Isobrite watches also come with a scratch and shatter resistant sapphire crystal – when I say resistant – I've beat the crap out of my Isobrite Chronograph watch and it still looks brand new! While I'm certainly tough enough to handle whatever my lifestyle throws at me, it appears my Isobrite might even be tougher!
Although, I would say I'm pretty tough… and even tougher on my gear, I'm not the toughest guy on the block either. I'm humble enough to recognize that as good as you think you are, there is always someone just a little bit better… maybe even a lot better!
For those guys, I did some reading up on ArmourLite's SHATTERPROOF crystals. While they are illuminated with T25 tritium, still incredibly vibrant, they are topped with a patented rock hard crystal. While standard watch crystals may rate at about 700 Vickers hardness, sapphire crystals like the one on my Isobrite Chronograph are typically rated between 1200 – 1400 Vickers. ArmourLite branded watches are rated at a staggering 6,000 Vickers! Their website even has a guy hitting his watch face with a hammer!
Who does that? Still, it escaped unscathed – and that wasn't the worst it went through.
So, I put together some tech specs about a couple of their watches – my Isobrite Chronograph and the awe-inspiring SHATTERPROOF ArmourLite – I swear the thing is like Superman in a lightweight polycarbonate case! Indestructible? Probably not. Bulletproof? Probably not that either. Impervious to just about any extreme lifestyle? ABSOLUTELY.
Here are some ArmourLite Watch facts to mull over:
ARMOURLITE's Isobrite Chronograph Watch (ISO401) ( http://tiny.cc/txwlfx )  – Swiss Ronda 5040.D Quartz movement, anti-reflective scratch and shatter resistant sapphire crystal, lightweight polycarbonate 47mm x 11mm case, unidirectional bezel with tritium markers, 24mm wide Nitrile Butadiene Rubber (NBR) wrist band rated at -40 to 226 degrees Fahrenheit, long lasting 54-month battery and water resistant all the way down to 200 meters (20 ATM – 660 feet)! It also comes in a padded yet rigid and durable zippered case with extra nylon wrist band. Find on a Amazon: http://tiny.cc/txwlfx
ARMOURLITE Professional Watch (AL45-B) ( http://tiny.cc/9zwlfx )  – Citizen Miyota OS60 movement; patented 6000 Vickers shatterproof, scratch resistant, high-impact resistant crystal, stainless steel 45mm x 14mm case, stainless steel 22mm wrist band with deployment buckle clasp, unidirectional bezel, tritium illuminated watch-face markers and hands, 24-month battery and water resistant to 100 meters (10 ATM – 330 feet)! Find on a Amazon: http://tiny.cc/9zwlfx
Some ArmourLite watches include up to 10 year batteries and wristband options like Kevlar, leather, rubber, textured stainless steel and stitched nylon. All of the watches I viewed included a 2-year ArmourLite warranty. ArmourLite offers numerous ultra-tough models at various price points to fit your budget.
To learn more about ArmourLite watches, visit www.ArmourLite.com. If you're a professional communicator in the outdoor industry and are interested in field testing these watches, contact Joe Wieczorek ([email protected]) or Kevin Reese ([email protected]) at The Media Group, Inc. – the ArmourLite's media representative.