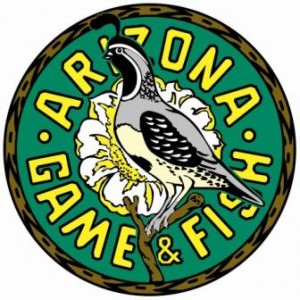 KINGMAN, AZ -(Ammoland.com)- The Black Mountains north of Kingman is an unforgiving environment with extreme summer temperatures, steep rock faces, and little forage.
This setting, however, serves as home to the majestic desert bighorn sheep and provides a unique wildlife viewing opportunity for the public.
The Arizona Game and Fish Department's Region 3 office in Kingman will host two, two-day Desert Bighorn Sheep Workshops July 25-26 and Aug. 1-2. The first day of each workshop is mandatory classroom education from 6-8 p.m. at the Kingman office followed by a boat trip on the Colorado River from Willow Beach to the Hoover Dam from 10:30 a.m.-2:30 p.m.
The deadline to apply for the workshops is noon, June 13.
"Sheep in the Black Mountains don't need to visit water often, if at all, during the winter," said Zen Mocarski, information and education program manager at the Region 3 office. "During the hot summer months they visit water about every other day. That's why we do these workshops during the hottest time of year."
The workshops are free and open to any member of the public 14-years-old and up. Nobody under 14 is eligible. Space, however, is limited to 49 people per workshop and preference will be given to those who have not attended in the past.
"Many people want to attend multiple times, but there are folks who have been trying for four or five years and haven't been selected," Mocarski explained.
Participants are selected through a random draw process which will take place immediately after the draw deadline. All applicants are notified via mail or e-mail following the deadline. Those not drawn are placed onto a reserve list in the event of cancellations.
"This is an opportunity to connect with nature," Mocarski said. "It's also a great way for people to become educated about these animals, learn about the department, and gain an understanding of the conservation efforts of multiple agencies."
Mocarski said these workshops are available because of the Heritage Fund, a voter-passed initiative which provides money to the department through Arizona Lottery dollars for wildlife conservation and education.
The workshop includes an optional 45-minute tour at 9 a.m. of the U.S. Fish and Wildlife's Willow Beach National Fish Hatchery prior to the boat trip.
While the workshop is free, those selected to participate are required to send a $20 per person refundable deposit by June 25 to help reduce the problem of no-shows. The checks, which should be made out to Wildlife for Tomorrow Foundation, are returned when a person attends the workshop or cancels at least 48 hours prior to the workshop. Please do not send cash.
Registration can be completed by mail, an e-mail to Mocarski, or drop off at the Kingman office only at 5325 N. Stockton Hill Rd., Kingman, Ariz. 86409.
Donations, which are not mandatory to participate, will be accepted at the workshop to help offset increasing costs for boat rentals and fuel.
Participants are encouraged to bring a camera, water, snacks, a hat, sunglasses, and sunscreen. No tripods will be allowed on the boats, but small coolers are OK.
"It is going to be hot," Mocarski advised, "but that's when bighorn come down for a drink. There is limited shade on the boats, but the temperatures will be in the triple digits."
About The Arizona Game and Fish Department
The Arizona Game and Fish Department mission is to conserve Arizona's diverse wildlife resources and manage for safe, compatible outdoor recreation opportunities for current and future generations.