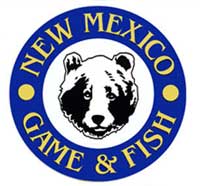 SANTA FE, NM. -(Ammoland.com)– The Department of Game and Fish archaeologist and tribal liaison was speechless after learning the Cultural Properties Review Committee had voted to present him with the 2014 Heritage Preservation Award for archaeological heritage.
The award recognizes archaeologist Jack Young's recent work at the Lake Roberts Wildlife Management Area north of Silver City.
During required construction to make safety improvements on the Lake Roberts Dam, Young oversaw the protection, excavation and management of two archaeological sites that dated back to about 700 to 1100 AD.
Mr. David Siegel of the U.S. Fish and Wildlife Service nominated Young for his "exemplary stewardship of New Mexico's archaeological heritage," throughout his work at the Lake Roberts Wildlife Area. Siegel stated in his nomination, "Jack Young and the NMDGF worked tirelessly to protect those sites, while keeping the essential dam improvements on schedule."
"It was a project where we thought he did an outstanding job," said Jan Bella, New Mexico State Archaeologist and Deputy State Historic Preservation Officer for the Cultural Properties Review Committee.
Archaeologists investigated two Mimbres sites at Lake Roberts. They found pit houses, arrowheads, tools, animal shaped stone beads, and pottery shards from rare polychrome pots painted with black, orange and red geometric patterns.
"It was massive team effort on a complex project," Young said. "Many organizations and individuals collaborated to protect the integrity of the prehistoric site and excavate cultural resources in peril."
The Department of Game and Fish, students from the University of New Mexico, the University of New Mexico Office of Contract Archaeology, the New Mexico State Preservation Historic Office, archaeologist Rachel Johnson, Human System Research Management and the U.S. Fish and Wildlife Service, with significant tribal collaboration, worked together to respectful treat and safeguard the site.
Established in 1969, the award recognizes outstanding examples of preservation work across the state during National Historic Preservation Month, celebrated in May.
Young will be presented with his award during the 42nd annual Heritage Preservation Ceremony, at 10 a.m. Friday, May 16, at the New Mexico Museum of Art, 107 W. Palace Ave., Santa Fe. Fourteen recipients will be recognized for their work in historic preservation. The public is invited to attend.